Developing a WordPress website is an exciting process that can help your business take off. However, it can be a bit daunting if you're not familiar with all the steps involved. Many elements go into designing a website, and it can be overwhelming to try to remember everything.
We have put together a checklist of some of the key things that need to be considered when designing a website. Whether you're starting from scratch or revamping an existing website, by following this website design checklist you can be sure that your website will be user-friendly, engaging, and visually appealing.
A. Site Planning Checklist
This site planning checklist is a key to developing a successful website and is the first step you take to prepare for a website launch. By taking the time to research your audience, content, and design, you can create a website that will meet the needs of your visitors. Use this checklist to ensure that your site planning is on track.
1. Develop a set of goals for your site
Before you begin designing your site, it's important to know what you want to achieve with your website and what kind of site you want it to be. Do you want your website to generate leads for your business? Make you money? Or just provide useful information to visitors? This is a crucial step because it will help you focus on the right things when designing your site.
2. List down your requirements
Once you know what you want your website to achieve, it's time to make a list of everything that your website must have. This is a bit like the requirements document for any other software project. It's a list of what your website must have to achieve the goals you set in the previous step.
3. Identify the Target countries/markets
This is a crucial step for any business website. For example, if you want to sell your products or services to people in the US, then it makes sense to build your website with the US audience in mind. You'll need to decide what languages and time zones you want your website to support. If you want to sell your products or services in the UK, Germany, and France, then it will make sense to build your website with these three markets in mind.
Your website must be in their language, use terms that are relevant to them, etc. It also needs to follow the local laws of the country you want to target. Depending on the needs, you may even have to create different versions of the website for each country you are targeting.
4. Know your industry
Every industry is different and there is something unique about each of them. It's important to understand what your customers look for when they visit your website. There is more than one way to market your business and the best way to do that is by understanding what works in your industry.
Some examples of things you should know about your industry are:
What are the trends?
How many customers do you have?
Where do they come from?
How can they find you?
What is the average sale?
What are the demographics of your customers?
Is there a vast amount of information that needs to be conveyed to get a sale? Or is the website going to be more about customer service?
Knowing your industry in and out will help you design a website that serves the needs of your customers.
5. Conduct a competitor analysis
Before you start creating your new website, you need to know what is currently being done by others. You can do this by conducting a competitor analysis.
This will help you understand who are buying from competitors, what they are buying and how the competitors are communicating with their clients. The information that you gather from this analysis will help you to create a better and more effective website.
6. Research your audience
You need to know who will visit your website and understand their mindset and behavior patterns. This will help you in understanding the expectations of your target audience and their preferences.
You must also understand the demographics of your audience. This will help you in finding the right language and tone for your website. It will also help you in creating content that is interesting and engaging for your target audience.
7. Understand your company
Before you begin developing your company's website, you must take the time to get to know your company well. This means understanding your company's mission, values, and goals. It also means understanding your target audience and what their expectations are.
You will also need to identify your company's goals and objectives and understand how this website can help you achieve those. By doing all of these things, you will be able to develop a website that meets your company's goals, targets the right audience, and addresses the needs of the people who visit your site.
8. Create buyer personas
A Buyer Persona is a research-based profile that describes your ideal customer. In other words, buyer personas are the profiles of your potential customers.
You need to create a buyer persona for each group of people you want to target with your website. By defining who your target customers are, you can design a website that speaks to their needs and interests.
9. Decide on the type of website to build
Are you starting a website for your business? Or do you want to start a blog or build an online store? Whatever the reason, there are many types of websites you can choose from.
Before you can choose the type of website you want to build, you need to know about the 9 Types Of Websites You Can Build for your business. You must carefully evaluate the features of each website before deciding which one is right for you.
10. Assess your current website
This is an optional step that is needed only if you are trying to redesign or upgrade your existing website. You will have to look at your analytics to assess your current website's strengths and weaknesses. Evaluate the effectiveness of its design and content. Find out what works for your business and what does not work.
Use this analysis as a guide for making a detailed plan about what changes you need to make to your website. This plan should include what changes you want to make, why you will be making them, and how they will benefit your business.
B. Site Design Checklist
For a website to be successful, it must have a well-designed layout that is both visually appealing and user-friendly. There are many elements to consider when designing a website. This site design checklist will help you create a website that looks great and functions properly.
11. Choose a domain name
Once you have decided what niche your website will be targeting, you need to decide on a domain name.
A domain name is a unique identifier for a website. It is used to direct users to the correct server when they visit a website. It typically consists of two or more parts, separated by periods. For example, the domain name "example.com" consists of the top-level domain ".com" and the second-level domain "example".
Choosing a great domain name is important because it creates an identity for your business. This is also the name that you are going to use for all your online marketing.
Domain names must be registered with a domain name registrar before they can be used. Once you have decided on a domain name, ensure that it is available for purchase before you decide to register it. You can search for a domain name and purchase it from Hostinger or Namecheap.
12. Design a logo
Every company needs a logo to create a visual identity. It is the face of a company and can be used on marketing materials, products, and packaging. It is a way to communicate what a company does and what it stands for.
You can create a logo yourself or have a professional designer do it for you. You can also choose from pre-designed ones that are available online. There are thousands of templates on canva.com that you can modify to create one suitable for your business.
13. Plan your site's layout
When you're ready to start building your website, the first step is creating a sitemap. This will be a draft version of all the web pages and content you want on your site.
To build a draft sitemap, start by brainstorming all the sections and pages you will want to have when the site goes live. Don't worry, this is just the initial set. You can always add more after the site goes live.
You will need a homepage, contact us, about us, and the product or service pages to start with. Having a blog is also necessary if you want to do content marketing. You can also have an FAQ section, a gallery of photos, testimonials, and other content that will help build trust with your customers.
Once you have a comprehensive list, start organizing it into a hierarchy. The homepage should be at the top, with the main sections below it. Within each section, list the individual pages.
As already mentioned, your sitemap can always be adjusted as you add more content or make changes to your website. But having a draft sitemap will give you a clear overview of what you need to build and help you get started on the right foot.
14. Choose a distinct style
For your website to stand out, it needs to have a clear and defined design style that provides a great user experience.
Choosing a distinct style for your website can be tricky, as there are endless possibilities and no wrong answers. However, taking some time to narrow down your options will make the design process much easier.
To start, look at some websites that you admire. What do they have in common? Is it the colors, the layout, or the fonts? Once you've identified what you like about these websites, you can begin to search for websites that feature similar elements.
Next, think about your target audience. What kind of style will appeal to them? For example, if you're designing a website for young children, you'll want to use bright colors and simple shapes. A website designed for teenagers will have a more sophisticated and energetic feel.
To get started, try picking out your favorite fonts, colors, and graphics. Experiment with various color combinations and graphic styles until you find something that you love.
15. Decide on the content to include
When you are creating a website, you need to decide what content you will put on it. This can be a daunting task, but the research you did earlier will make your decision easier.
First, think about the purpose of your website. Is it to sell products? To provide information? To promote your business? Once you know the purpose of your website, you can start to determine what content will be most appropriate.
Next, consider your target audience. Who are you trying to reach with your website? What kind of information do they need or want? What will appeal to them? Knowing your target audience will help you choose content that is relevant and interesting to them.
Finally, think about what kind of tone you want to set with your website. Do you want it to be professional? Fun and playful? Serious? Knowing how you want your website to come across will help you make the right choices for your content.
16. Write the content
Once you've determined what kind of content to include on your website, it's time to start creating it!
Consider hiring a professional content writer to write your website content for you. This is especially important if you're not confident in your writing ability or have a lot to say on the subject of your website.
However, you can also write your own content. The most important thing is to make sure that it's well-written, engaging, and easy to understand. Think about how people will find your website once they've clicked the link to it. If they can't understand what it's about, they'll quickly click away and move on to another website. Hence, ensure that the content on your website is top-notch.
17. Do a Quality Check Of the Content
Before you hit publish on that blog post, make sure to do a quality check of the content you have written. This is important to ensure that your readers will be engaged and interested in what you have to say. Here are a few things to look for:
Make sure your ideas are well-developed and supported. This means including enough detail and examples to illustrate your points.
Check for clarity and conciseness. Be sure that your writing is free of any ambiguity or confusion.
Nothing turns off a reader more than seeing mistakes in a piece of writing. So be sure to proofread for grammar, spelling, and punctuation errors. Use a spell checker like Grammarly. This is a quick and straightforward way to catch any typos or misspellings.
Take your time. Don't try to rush through the proofreading process. It is important to take your time to catch all the errors in your work.
By taking the time to do a quality check of your content before you publish it, you can be confident that you're putting your best foot forward and giving your readers the best experience possible.
18. Create a Wireframe Design
A wireframe is a blueprint of your website that shows the structure and layout of your site. It is used to plan out the design and functionality of your website before any code is written.
Creating a wireframe can help you save time and money eventually. It allows you to plan out the design and functionality of your website before any code is written. This way you can avoid making costly mistakes later down the road.
There are many ways to create a wireframe. You can use pen and paper, or there are various software programs like Adobe XD and Figma available that can help you with this process.
Source the images and videos
19. Source the images and videos
If you have ever visited a website, you know how important images and videos are for keeping visitors engaged. But sourcing those images and videos can be a challenge.
Here are some tips for finding the right content for your site:
Get free stock photos and videos: There are plenty of sites like Unsplash, Pixabay, and Pexels that offer free images and videos that you can use on your website. Just make sure to check the terms of use to make sure you're not infringing on any copyright laws.
Use Creative Commons-licensed content: Many photographers, artists, and content creators are willing to allow you to use their work as long as you attribute them. Be sure to read the terms of use for each source of content so that you're not infringing on any copyrights.
Use stock photos and videos: If you don't have the time or interest in creating your own images, you can use microstock resources such as iStockphoto and Shutterstock. These services offer thousands of photos that you can use in your blog posts. Just be sure to read the terms of use, as you'll usually have to attribute the photographer.
Shoot yourself: If you have a knack for photography or video production, why not create your own images and videos? This is a fantastic way to add unique content to your site that no one else has.
Hire a professional: If you want to give your blog the best possible look and feel, consider hiring a professional photographer or videographer to do a shoot for you. A high-quality photo or a well-produced video can make all the difference in making your blog stand out, so it will be well worth the expense.
C. Server Configuration checklist
Your web hosting server plays a crucial role in ensuring that your website runs smoothly and gives a good experience to the users. This checklist will help you to choose a server and ensure that your server is properly configured for optimal performance.
20. Buy a web hosting package
Hosting packages provide the server space and resources that websites need to function.
With so many hosting providers out there, it can be tough to know which one to choose for your website. Do some research and compare different packages to find the one that best suits your needs. Consider things like price, features, and customer support when making your decision.
We have written extensively about what you need to know about web hosting, the 7 types of hosting packages, and how to select the right web hosting package for your website. These will help you to find the best hosting service for your website.
Once you've found a hosting package you are happy with, make sure to read the terms and conditions carefully before purchasing. This will help you avoid any surprises down the road.
21. Set up the DNS records
DNS, or Domain Name System, is a set of records that link a domain name to the server where its website is hosted. To ensure that your website is accessible to visitors, you'll need to set up DNS records for your domain.
There are four types of DNS records that you'll need to create: A (address), CNAME (canonical name), MX (mail exchange), and NS (name server). Each type of record serves a different purpose and has specific values that need to be entered.
Your web hosting company will send you all these details by mail. You can follow the instructions to set up the DNS yourself or ask your web administrator to do this for you
22. Connect The domain to the server
Domain names are unique addresses that identify a website on the internet. Hosting packages provide the server space and resources that websites need to function.
To connect a domain name with a hosting package, you need to point the domain name's DNS records to the hosting package's IP address. This will allow visitors to find and access your website when they type your domain name into their browser.
23. Install an SSL certificate
An SSL certificate is a digital certificate that authenticates the identity of a website and encrypts information sent to the server using SSL technology. SSL stands for Secure Sockets Layer and is a protocol that provides security for communication over the internet.
There are many benefits to installing an SSL certificate on your server, including improved security for your website and its visitors. It can help protect against malware and phishing attacks, and it can also increase your search rankings. In addition, it can give your customers confidence in your brand and help you build trust.
To install SSL on your website, you will need to purchase one from a Certificate Authority (CA). Some hosting companies also provide free SSL certificates which you can use on your site. You will need to contact your hosting provider or find out if your hosting plan includes a free SSL certificate.
After this, you will need to redirect your website from HTTP to HTTPS. Here are the instructions for doing this.
24. Configure the hosting server
If you have a hosting server set up and running, there are a few configuration changes you'll need to make to get your development website up and running. Here are some tips on configuring a hosting server for developing a website:
Consider the type of platform or language you will be using and ensure that all prerequisites are met. For example, if you are using WordPress, you will need to make sure your server has PHP and MySQL installed.
Allocate enough resources to handle the traffic and activity on your website. This includes CPU, memory, storage, and bandwidth. If your website is expected to receive a lot of traffic, you may need to upgrade your hosting plan or invest in a dedicated server.
Another important consideration is security. Be sure to configure your server with the latest security patches and updates to keep your site and visitors safe from hackers and malware.
Set the server's document root to the directory where your website files are located.
Finally, it is also important to have a backup plan in place in case of any unforeseen issues with your hosting server. This could include having another server ready to go or investing in cloud-based storage solutions.
25. Choose between non-WWW and WWW
If you're running a website, you have probably come across the debate of whether to use www or non-www in your web address. There are pros and cons to both, so it's important to weigh your options before deciding.
The www version is the most common and is often seen as more professional. It is also easier to remember for users since most people are familiar with the www format. . However, omitting www from your web address can make your site seem more modern and sleeker. It can also help you establish a stronger personal brand.
If you are wondering which is better for SEO purposes, the answer is that using www or non-www in your domain name doesn't make a difference. What matters is that you're consistent with whichever version you choose. So, if you want to use www, make sure all your links and references use www as well. The same goes for non-www. As long as you're consistent, you'll be fine.
26. Set up a professional email address
Having a professional email address is important for several reasons. First, it gives you an air of credibility and can help you build trust with potential clients or employers. Second, it allows you to keep your personal and professional lives separate. Finally, it can help you stay organized and avoid missing important opportunities.
To set up a professional email address, sign up with a reputable email provider like Gmail and pick a username that is simple but memorable.
Tip
For best results, create a domain-based email address (for example, if your domain is yourdomain.com, your email id can be [email protected]). This is a wonderful way to brand yourself and your business online.
27. Install WordPress
Assuming you have a web server set up already, you will now have to set up WordPress.
There are a few different ways that you can install WordPress on your server. The most common way is to use the cPanel method, where you can install WordPress with just a few clicks.
If you're more comfortable with using the command line, then you can also install WordPress that way. You'll need to download the WordPress files first and then upload them to your server via FTP. Once they're uploaded, you'll need to create a database for WordPress and then run the installation script.
Finally, if you're using a web hosting service that doesn't offer cPanel or an easy way to install WordPress, you can always do it manually. This involves downloading the WordPress files, uploading them to your server, creating a database, and then running the installation script. It's a bit more work, but it's not impossible.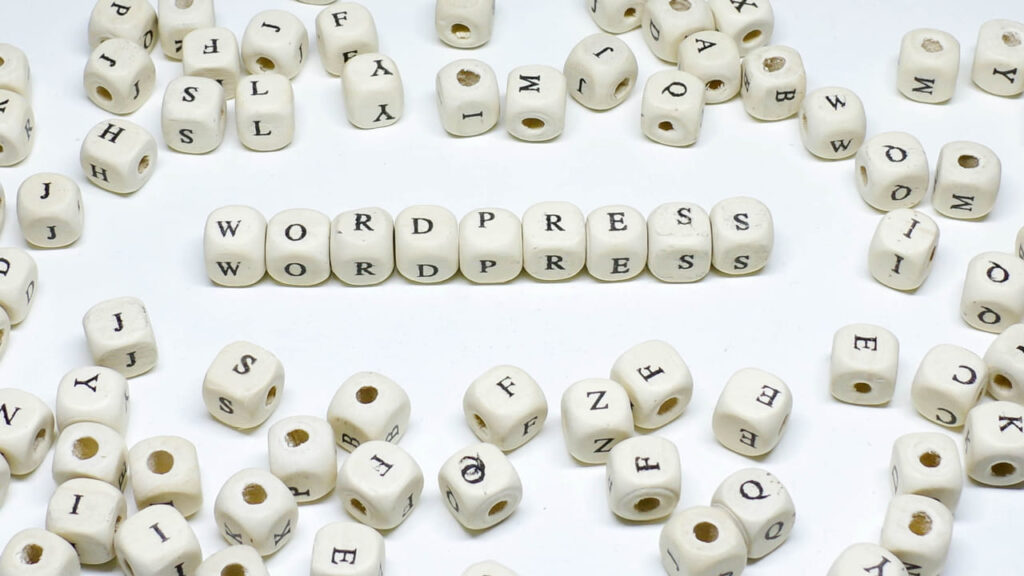 28. Set Permalinks
WordPress permalinks are the permanent URLs to your blog posts and pages. The URL structure you choose for your WordPress blog will affect SEO and usability.
You can easily change the WordPress permalink structure by going to Settings > Permalinks.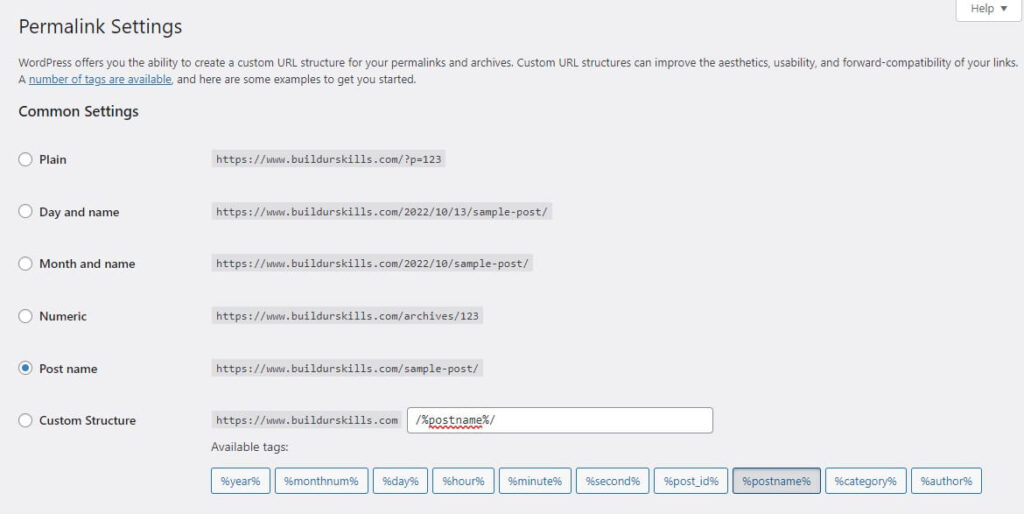 We recommend choosing the "Post Name" option as it is the cleanest of the URL structures. This is because it is the most user-friendly, is the easiest to remember and type, will be the shortest, and is the most SEO-friendly.
29. Change the admin email address
If you have not specified the right admin email address while installing WordPress, you need to do it now.
Log in to your WordPress site as the administrator.
Go to Settings > General page.
In the "Administration Email Address" field, enter the new e-mail address.
Click the "Save Changes" button at the bottom of the page.
You may need to verify the email id before the changes get activated.
30. Add site registration on/off
Adding site registration on your WordPress site is useful for increasing user interaction and engagement. By allowing users to register on your site, they will be able to comment on posts, receive updates via email, and interact with other members of the community.
Alternatively, you might want to keep your site private and only accessible to certain users. In such a case you will have to turn off new user registrations on your site.

To set this option, log in to WordPress and go to Settings > General.
Under the Membership section, you can choose whether you want anyone to be able to register on your site or not. If you select "Anyone can register", only then users will be able to register and log in using the form on your website, otherwise not.
You can also choose what kind of user role each new registrant will have. The default is Subscriber, but you can change it to any other existing role. Once you have made your selections, click the "Save Changes" button at the bottom of the screen.
31. Change the site language
If the primary language of your website is not English, then you will have to change the default site language of WordPress.

To set the language through the Admin Panel,
Go to Settings > General > Site Language.
Select the desired language from the dropdown menu
Click "Save Changes".
32. Set the Time and date formats
To get the right reports and other functions like post-scheduling to work properly, it is important to make sure your site's time zone is set correctly. This can be done in the General Settings section of your WordPress admin panel.
The first thing you need to do is find out what time zone you're in. You can do this by Googling "what time zone am I in". The other option is to set the default timezone to UTC. This way, everyone will see the same timestamp regardless of their location.
To set the WordPress time zone, you will need to:
Access the Settings > General section of your WordPress site.
Once in the general settings section, scroll down until you find the "Timezone" drop-down menu.
In the "Timezone" drop-down menu, select the city in your desired time zone.
You can also change the Date Format and Time Format to your desired settings.
Save your changes by clicking on the "Save Changes" button at the bottom of the page.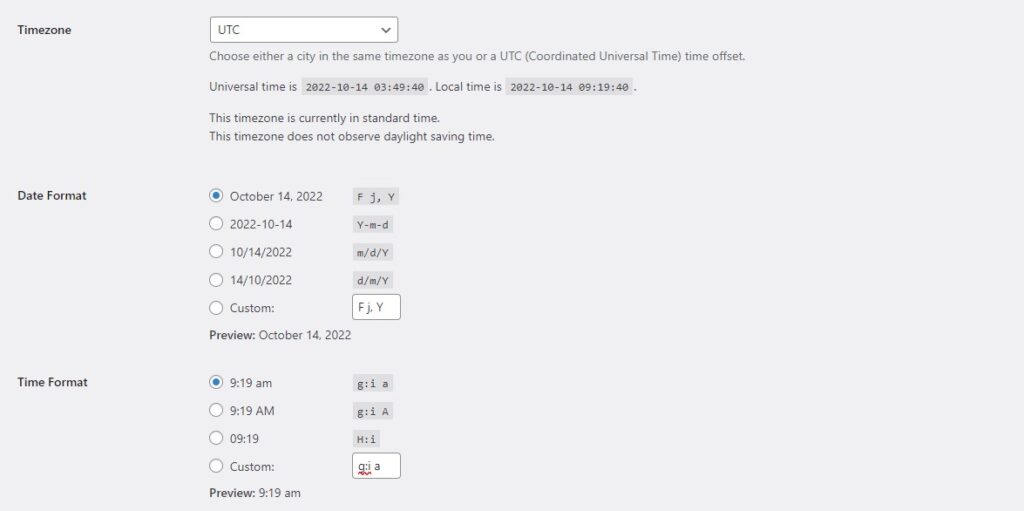 That's it! You have now successfully set the WordPress time zone for your site.
33. Block the site from getting indexed
To ensure that your site does not get indexed by search engines while it is being built, you will have to block the search engine visibility of the site. Here is how to do it.
1. In your WordPress dashboard, go to Settings > Reading.
2. Under Search Engine Visibility, check the box next to Discourage search engines from indexing this site.
3. Click the Save Changes button at the bottom of the page.

By following these steps, you have now told WordPress not to allow search engines to index your site. However, it can still take some time for search engines to remove your site from their indexes completely.
34. Block the site from the users
In addition to blocking search engines, you might want to keep your website out of the sight of people as you develop it. There are a variety of methods by which you can do this.
If you are using a hosting service that provides a control panel, there will be an option to password-protect your directory. This is the easiest way to go about blocking access to your site.
Another way to do this is by editing your .htaccess file. If you go into the file and add the following lines of code, it will deny access to anyone who tries to visit your site. deny from all; Please note that if your site is being hosted on a shared server, you will not be able to do this.
It can also be done with a WordPress plugin like Website Builder by SeedProd
You can also create an index.html file and place it in your root directory. Doing this will override the default index file that WordPress creates, effectively blocking anyone from seeing your site until you delete the index.html file.
D. Site Development Checklist
Now that you have completed the preparations, it is now time for you to develop the site. Follow this Site Development Checklist to do this, step by step.
35. Select a theme
When you finally start designing your website, you will need a theme that will allow you to customize its look and feel. There are thousands of free and paid WordPress themes out there, so take some time to browse through them and find one that's a good fit for your brand.
Since the speed of websites is a major ranking factor now, we suggest that you select a theme that is blazingly fast. Our top recommendation will be to go for the GeneratePress, Astra, or KadenceWP theme. These work well with many popular page builders, including the default block editor of WordPress.
If you want to choose a specialized premium theme you can choose one from Envato elements. It has over 5000+ themes suitable for almost every industry and category of websites.
36. Add a Child Theme
When you're designing a website, it's important to think about the future. You may want to make changes to your site down the line, and you don't want those changes to be lost when you update your WordPress theme. That's where child themes come in.
A child theme is a WordPress theme that inherits its functionality from another WordPress theme, called the parent theme. Child themes are often used when you want to make changes to an existing WordPress theme without losing the ability to update that theme in the future.
We have prepared a detailed guide on how to create a WordPress child theme. Use it to set up a child theme on your website.
37. Choose the right page builder
If you plan on creating a good-looking website, then you have to choose a page builder that will allow you to customize the look and feel of your website. A good page builder should be easy to use and not too complicated. The page builder should also have a good set of tools to help you create the site that you want.
If you need some inspiration and guidance, read our guide on the 10 WordPress page builders that will make your website come to life.
Elementor is one of the most popular page builders which is remarkably versatile and customizable. However, it has some impact on the website speed.
If you want to be future-ready, we suggest you go with the Block Builder of WordPress (Gutenberg). Augment it with GenerateBlocks Free or GenerateBlocks Premium if you want maximum flexibility. Another great option is KandenceBlocks.
If you are not sure which one to go for, then you can go for the basic one for starters and upgrade if necessary.
38. Choose a design template
You will now need to choose a design template that matches the design you had decided upon earlier. The design should take into account your business goals, target audience, site structure, etc.
Most WordPress themes come with some inbuilt designs that you can customize by adding your colors, fonts, etc. If you are not satisfied with those, you can choose one from the thousands of templates available with a subscription to Envato Elements.
39. Set your color scheme
The color scheme you select for your website will play a role in setting the tone and feel of your entire website. With so many options to choose from, it can be challenging to decide which colors are right for your site.
Here are a few tips to help you choose the perfect color scheme for your WordPress website:
First, you want to make sure that the colors you choose complement each other and create a cohesive look.
Second, you want to consider the overall tone of your site and how the colors you choose will contribute to that.
And lastly, you want to make sure that the colors you choose are easy on the eyes and won't cause eyestrain.
Start with two or three main colors. These will be the foundation of your color scheme and will be used throughout your site. You must also choose one or two accent colors. These will be used sparingly to add pops of color and visual interest. Finally, choose a base color that will be used in the background.
Several excellent online tools make it easy for you to select a color scheme. These are Coolors.co, Adobe Color, Paletton, and the Material Color Tool.
40. Add a logo and favicon
Adding a logo to your WordPress site is a wonderful way to brand your site and make it more recognizable. There are a few different ways to add it to your WordPress site, but the easiest way is to use the Site Identity feature in the Customizer.
To add a logo to your WordPress site using the Site Identity feature,
Go to Appearance> Customize.
Here you'll see a section called Site Identity.
Expand this section and you'll see options for adding a logo and favicon.
41. Link the logo to the homepage
A logo is one of the first things that a visitor to your website will see, so it's important to make sure that it's linked to your homepage. This will help ensure that visitors can easily find your website's main page, and it can also help with branding and SEO.
The option for placing this link varies from theme to theme, so check your theme documentation for the exact instructions.
42. Add Custom Post Types
By default, WordPress comes with a few different post types (e.g., posts, pages, and media), but you can also create new custom post types to suit your needs better. However, depending on your site structure, you may need to add some more post types to your WordPress site to better organize your website.
For example, you may need a custom post type called "Portfolio" or "Case Studies" to display samples of your past work and the results you got for your clients.
There are several ways to create a custom post type in WordPress. You can use a plugin like Custom Post Type UI or Toolset Types, or you can code it yourself.
Once you've added a custom post type to your WordPress site, you can start creating new content. To do this, simply go to the Posts > Add New page and select the custom post type from the drop-down menu. Give your new piece of content a title and start writing!
43. Add custom fields
Adding custom post fields is a powerful way to add extra data to your posts. This can be useful for adding extra information about your post, or for adding links to other articles. For example, you could add a custom field for an author's name, or a list of ingredients in a recipe.
We recommend using Advanced Custom Fields which lets you add custom fields to any post type on your WordPress. It makes it quite easy to create and manage custom fields in WordPress.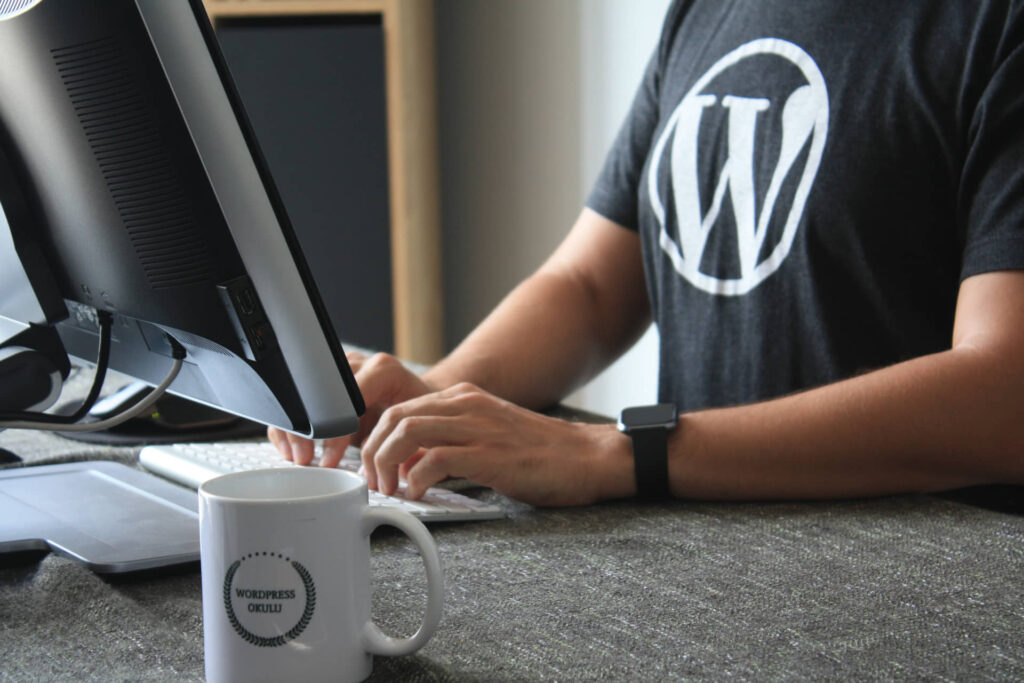 44. Add Header and Footer
The header and footer are the two most prominent areas of a WordPress site. The header is typically the first thing that visitors see when they arrive on your site, and it usually contains the site's logo and navigation. The footer is usually the last thing that visitors see before they leave your site, and it often contains links to important pages, like the About page or the Contact page.
Adding a header and footer to your WordPress site is important for improving the look and feel of your site. So go ahead and customize these two areas of your site now.
45. Include a copyright notice in the footer
Adding a copyright notice to the footer of your website is a great way to protect your original content. Copyright notices let visitors know that the content on your site is yours and can't be used without your permission. Including a copyright notice also helps deter would-be content thieves from stealing your hard work.
You can add a copyright notice to your website's footer by simply adding a line of text that says "Copyright [year] [your name]." Another way is to use the HTML code for a copyright symbol followed by the year and your name.
46. Set up a shop
Adding a store to WordPress is a fantastic way to expand your website's functionality and give your visitors another way to purchase your products or services.
There are a few different plugins that you can use to add a store to WordPress, and each has its own set of features and options. These include WooCommerce, BigCommerce, Easy Digital Downloads. and Ecwid Ecommerce Shopping Cart that makes it easy to add products, manage inventory, set shipping options, and take payments. Add one to your WordPress site and start selling products on your WordPress site.
47. Add the pages and posts
Now it is necessary to add all the pages and posts that had been decided earlier in the step "Plan Your Site's Layout".
Adding pages and posts in WordPress is easy. To add a page, simply go to the Pages > Add New section of your WordPress dashboard. Then, give your page a title and start adding content. To add a post, go to the Posts > Add New section of your dashboard. Again, give your post a title and start adding content.
48. Customize the pages and posts
You will now have to customize the design of your pages and posts using the drag-and-drop interface provided by the Page Builder you have chosen.
Add the images, videos, and contact forms in the right places. You will also have to put internal links to connect the pages and posts.
Tip
Make sure that you correctly resize the images before you insert them to your website. Also, to reduce the load on your website, upload the videos to YouTube and then embed them to your website.
You will have to make sure that the pages and posts you create are responsive, i.e. look good on all screen sizes. As increased people use their mobile devices to browse the internet, it is important to make sure that your website is designed with a mobile audience in mind.
Use a responsive design, keep the design simple, use large font sizes, optimize images, and make your content short, so that the pages look good and load fast on different browsers on mobile devices.
49. Setup your homepage and posts page
For correct indexing of the website for the visitors to see the right pages when they land on your site, you will need to set the Homepage and Posts page in WordPress.
If you are setting up a blog website, then WordPress displays the latest posts automatically on the website and you will have nothing to do. However, for most other sites, you will have to change the setting manually.
Go ahead and set this before you make further customization to your site.

FAQ
How do I change the main page in WordPress?

1. Log into your WordPress account and go to "Settings > Reading".
2. In the 'Reading' settings, you will see an option to select "Your homepage displays" You can choose to display your latest posts or a static page for your front page.
3. If you choose to display a static page, you will need to select which pages you would like to use for your front page.
4. Once you have selected the pages you would like to use, click on the "Save Changes" button at the bottom of the page.
How to set the posts page in WordPress?

To set up a posts page in WordPress, go to Settings > Reading page in your website's dashboard. On this page, you can select your posts page from the dropdown menu under the "Front page displays" section.
50. Set up taxonomies and archive templates
Any good website designer must consider how content will be organized and displayed. That's where taxonomies come in.
A taxonomy is a way to group and organize your content. WordPress has three default taxonomies: categories, tags, and post formats.
To set up a taxonomy, go to the WordPress Dashboard and click on Posts > Categories. Enter a name for your taxonomy and click Add New Category. Similarly, you can set up post tags by going to Posts > Tags.
WordPress makes it easy to create custom archive pages for your taxonomies, authors, and dates. This allows you to control exactly how your content is displayed and makes it easy for visitors to find what they're looking for.
Once you set up your taxonomies and custom archive pages, they'll be ready to use on your site.
51. Add landing pages
You should add landing pages to your website to increase leads and website conversions. These can provide targeted information that speaks directly to the needs of their customers, including exclusive offers, customer testimonials, and clear calls to action.
When done correctly, landing pages can be highly effective in converting website visitors into leads and customers.
You must also create a Thank You page with each landing page to show appreciation when the customer makes a purchase or fills in a contact form on the landing page.
52. Create the legal pages
There are a few legal pages that every website should have to protect both the site owner and the site visitors. These pages can be created and installed easily with WordPress.
The first page is a Privacy Policy page. This page explains how the website collects, stores, and uses personal data from visitors. It is important to have this page if the website collects any sensitive information, such as email addresses or credit card numbers.
The second page is a Terms and Conditions page. This page outlines the rules that visitors must agree to use the website. It also protects the website owner from any legal liability.
The third page is a Cookie Policy page. This page informs the site visitors about what cookies are used on the website, and if they can be disabled. The fourth page is a copyright page. This page should outline who owns the copyright to all the content on the site.
The last page is an Affiliate (Earnings) Disclaimer page. This is optional but recommended if the website promotes any sort of product or service. The disclaimer states that the results shown are not typical and that individual results may vary.
If you are setting up an eCommerce site, you will also need the Shipping Policy, Returns/Exchange Policy, and Refund Policy pages. The details on these pages should be documented in a way that can be easily read.
Consult a legal expert for creating these pages. If that is not feasible, use a policy generator site like Termly.io or Privacy Policy Generator to create these.
53. Set a custom 404 page
When a website visitor types in a URL that doesn't exist, they receive a 404 error page. This can happen if the visitor mistypes a URL, clicks on a broken link, or is trying to access a page that has been deleted or moved.
A well-designed 404 page can help minimize the frustration of these errors by providing helpful and relevant information to the visitor. For example, your 404 page could include links to other pages on your site, contact information in case they need assistance, or a search bar so they can try to find what they're looking for.
It's also important to test your 404 page to make sure it's working properly. One way to do this is to type in a non-existent address and see what happens. Your 404 page should appear quickly and with as little clutter as possible.
54. Install an SEO plugin
You need to install an SEO plugin to ensure that your site is properly optimized for search engines.
There are several different SEO plugins available for WordPress, so it's important to choose one that's right for you and your site. Some of the most popular SEO plugins include Rank Math, Yoast SEO, and All in One SEO Pack. They optimize the website and make it easy for search engine crawlers to understand.
Once you've installed an SEO plugin, take some time to configure it to meet your needs. Depending on the plugin you choose, there may be a variety of different settings you can adjust.
You may want to configure options such as title tags, meta descriptions, keywords, schema, social options, and XML sitemaps. You can also use the plugin to check the on-page SEO scores of each page and apply the optimization recommendations provided by the plugin.
Remember, the better you optimize your website for search engines, the more traffic you will get from Google and other search engines.
55. Link Your social media profiles
In today's digital age, it's important to make sure your website is linked to your social profiles. By doing so, you're providing potential customers with another way to find and engage with your business. Here are some best practices you need to follow:
Make sure the links to your social media profiles are prominent and easy to find on your website. The best place for these is usually in the header or footer.
Use attractive and branded icons for your social links. This will help them stand out and make them more clickable.
Use effective calls to action on your social links, such as "Follow us on Instagram" or "Like us on Facebook". This will remind visitors what they need to do once they click through to your profile.
Use plugins or widgets to display your latest social activity on your website. This is a fantastic way to encourage visitors to follow you on social media and stay up to date with what you're doing.
56. Add Social Sharing Buttons
When you're creating a website, it's important to make sure your content is shareable on social media. This can be done by adding social sharing buttons to the posts and relevant pages on your website and eCommerce store.
Adding social sharing buttons to your website is a great way to increase traffic and engagement. By making it easy for visitors to share your content, you can tap into new audiences and encourage existing ones to come back for more.
You can add social sharing buttons with the help of WordPress plugins like Shareaholic, Mashshare, Share Buttons by AddToAny, or Jetpack Social Sharing.
HubSpot has made a list of many other social sharing plugins that you might consider.
57. Implement Twitter Cards
Twitter cards are a great way to stand out on social media and attract new visitors to your website. Twitter cards show a summary of your website on Twitter and attract more clicks. The way that Twitter cards work is by embedding a tiny snippet of code into your site, which allows you to customize the title, description, image, and URL of your post.
You can find the instructions for setting up Twitter Cards here. Make sure you Choose the right card type and set up Twitter Analytics to get the best performance from the Twitter Cards.
If you do not want to do this process manually, install an SEO plugin like Rank Math or Yoast. These plugins will do the heavy lifting and set up Twitter Cards in the right way for you.
58. Customize social sharing images and text
While social media is necessary for connecting with your customers and promoting your brand, it can also be time-consuming. One way to save yourself some time (and make your social posts look more professional) is to customize the images and text that are automatically shared when someone clicks on one of your links.
Most WordPress themes come with some basic customization options for social sharing. The Social Sharing plugin or SEO plugin that you have installed will also provide these customization options.
Once you've got your plugin or theme settings configured the way you want them, take some time to test things out. Share one of your posts on each of your social media channels and see what comes up. You may need to tweak things a bit to get the results that you want.
59. Add Open Graph settings
Open Graph is a protocol that was developed by Facebook to make sharing content easy on the web. When you add Open Graph tags to your website, you can control how your content appears when it's shared on Facebook. For example, you can specify the title, description, and image that will be displayed when someone shares one of your articles on social media.
There are a few ways to add Open Graph tags to your WordPress site. The easiest way is to install a Search Engine Optimization plugin like Rank Math. Once you've installed and activated the plugin, you can go to the Open Graph settings of each post and page and customize the details.
If you don't want to use a plugin, you can also add the Open Graph tags manually.
Once you have added the Open Graph to each page, you can use the Sharing Debugger by Facebook to scrape the data and check that everything is showing up properly.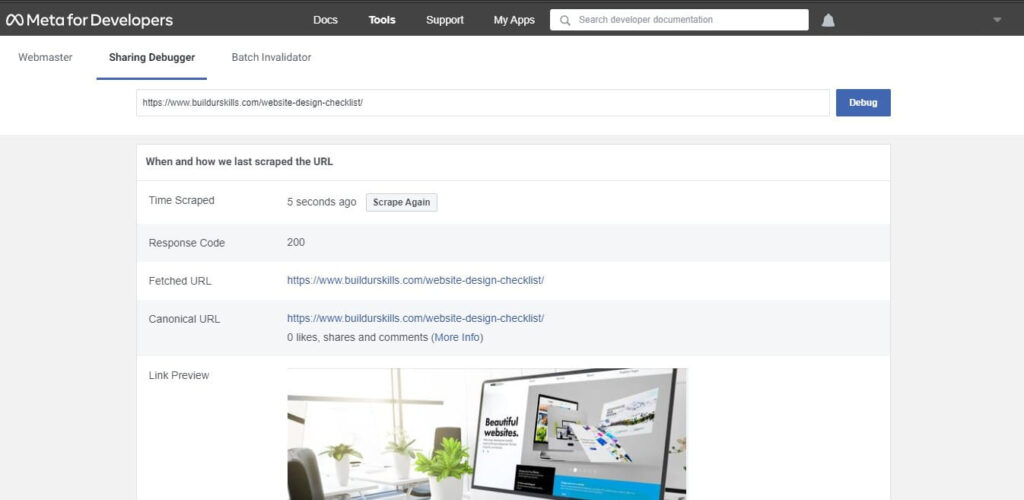 60. Add internationalization features
As the world becomes increasingly globalized, web designers need to consider how to make their websites accessible to users from all over the world. If you want to reach a global audience, you will have to localize your website for different countries by adding internationalization features to it.
Localization can make your site more user-friendly for people who speak different languages. It can also improve your position in search results. If you see on your website analytics that many people from other countries, who speak different languages are coming to your website, then it's best to localize your website.
There are a few ways to add internationalization features to your WordPress site. One way is to install the Polylang plugin or the WPML plugin. These plugins allow you to create a multilingual site with WordPress. You can also use a service like Google Translate to automatically translate your site into different languages.
61. Configure User Roles
If you want multiple users to manage your WordPress website, you will have to configure User Roles to the site. This is important since you may want to give certain users access to restricted areas of your website or prevent them from making changes to certain parts of your site.
By configuring user roles, you can ensure that only the people who need access to certain areas of your site have that access. This can help keep your site secure and prevent unauthorized changes from being made.
Website design checklist: The Next Steps
Congratulations! You have completed designing your new website.
However, the work does not end here. There are some particularly important steps to take before you launch your website. Follow our 75-step WordPress website launch checklist to avoid some common mistakes and create a professional and user-friendly website that is set up for success. It also talks about essential integration with tools like Google Analytics and Google Search Console. without which your website will be incomplete.