Are you thinking about starting an online business, and wondering what kind of website you should build?
Building a website can be overwhelming, especially in today's day and age, when there is an endless amount of website types on the Internet and designs that you can create for your business.
There are so many choices and options to consider. Which type of website is the best fit for you and your company? What platform should you use? How do you want to design your site?
To help you narrow down your options, we've compiled a list of 9 different types of websites you can build. Whether you're a small business owner, a blogger, or an eCommerce store owner, there's a website type that will fit your needs.
The 9 most popular types of websites
1. E-commerce websites
Ecommerce websites are online stores that allow customers to buy products and services. Customers can browse through a list of products and services, add them to their cart, and then checkout. The checkout process is handled by a payment gateway, which allows customers to pay for their items using credit cards. Once the customer has paid for the order, the website owner will ship out the goods and send them to the customer.
There are many examples of eCommerce stores, but some of the most popular include Amazon, eBay, and Etsy. These stores allow users to buy and sell products online, and they typically offer a wide variety of items to choose from. Other examples of eCommerce stores include clothing retailers, toy stores, and electronic stores.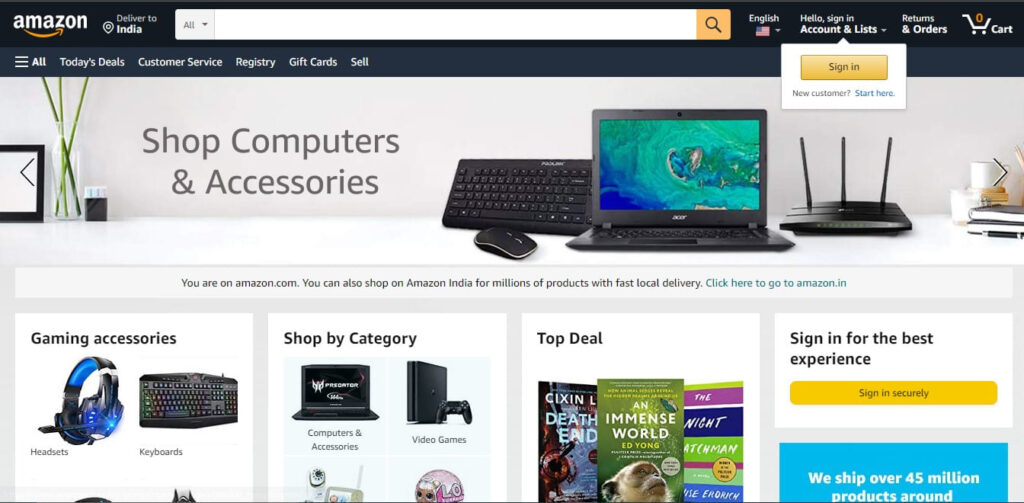 Purpose
The purpose of building an eCommerce website is to sell products and services online. Ecommerce websites are typically designed to be user-friendly and easy to navigate, with features such as shopping carts and online payment options.
Features
There are many features that eCommerce websites can have, but some of the most common ones include:
A shopping cart, so customers can add items to their orders.
A search bar, so customers can easily find what they're looking for.
Filters, so customers can narrow down their search results.
Product descriptions and photos, so customers know what they're buying.
A checkout process, so customers can pay for their orders and receive their items.
A customer service contact form that lets customers easily contact the website owner.
Product reviews, so customers can see what other people think of a product.
Social sharing buttons, so customers can share products on Facebook and Twitter.
Where to build
There are many platforms where eCommerce websites can be built, such as Shopify, Magento, and WooCommerce. Each platform has its own pros and cons, so it's important to choose the one that's right for your business.
WordPress powers a lot of eCommerce websites, because it's easy to use, and there are thousands of store plugins like WooCommerce available that can add features like a shopping cart, checkout process, customer contact forms, and user reviews.
Shopify is an excellent choice for businesses that want an easy-to-use platform with lots of features, but it's more expensive and might not be appropriate for a small business.
Magento is an excellent choice for businesses that want more control over their website and need a more customizable platform.
Important points
You must pay attention to the following points while creating an eCommerce website:
Keep your design clean and simple. Too many elements on the page can be overwhelming for users and make it difficult to find what they're looking for.
Make sure the website is easy to navigate and user-friendly. Your visitors must be able to navigate your site easily and find what they're looking for without being distracted or overwhelmed.
Ensure that your site is mobile-friendly. An increasing number of people are shopping on their phones and tablets, so you need to make sure your site looks good and is easy to use on smaller screens.
Include high-quality product photos and descriptions to give potential customers all the information they need to make a purchase decision.
Make the checkout process as simple and straightforward as possible.
Include a search bar to help users easily find the products they are looking for.
Don't forget to include social sharing buttons on your site, so that visitors can share your products with their friends and followers on Facebook and Twitter.
2. Business websites
A business website is a website that is created for the purpose of promoting or selling a product or service. It can be used to provide information about a company or its products and services, sell products and services online, or provide customer support.
Some examples of business websites are the ones of Microsoft, Apple, and Samsung.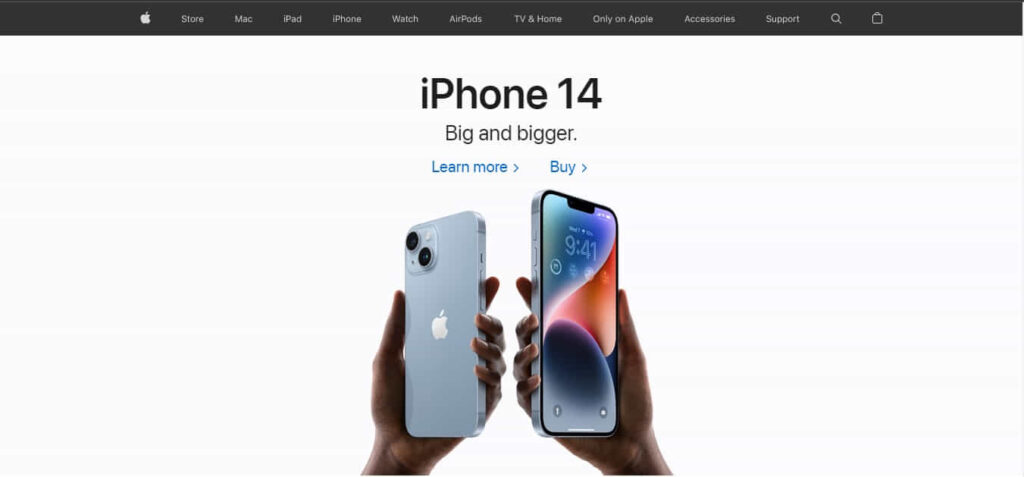 Purpose
The main reason for building a business website is to create an online presence for your company. This can help you attract potential clients and grow your business. A website can also be a wonderful way to communicate with your existing customers and keep them up to date on what's going on with your business. Landing pages, educational websites, and coming soon websites are some examples of business websites.
Features
A business website typically includes:
The organization's logo
Homepage
About page
A page for each of the business's products or services
Contact page
Blog
Testimonials
Case studies
Where to build
There are various places you can build a business website. You can use a website builder like WordPress, Wix, or Squarespace on your own. You can also hire a web developer to build your website for you.
Things to remember
Some points to remember while creating business sites include:
Keep your site design clean and simple.
Make sure the site is professional and easy to navigate.
Use easy-to-read fonts and colors.
Include clear and concise information about the products or services offered.
Ensure that the site is optimized for search engines.
Make sure the site is responsive and mobile-friendly.
Include calls to action throughout the site.
Provide contact information and social media links.
3. Charity websites
Charity websites are websites that are created and maintained by non-profit organizations. They typically include information about the organization, its mission and goals, its members, and its activities.
Some of the most popular include Amnesty International, Greenpeace, and the World Wildlife Fund.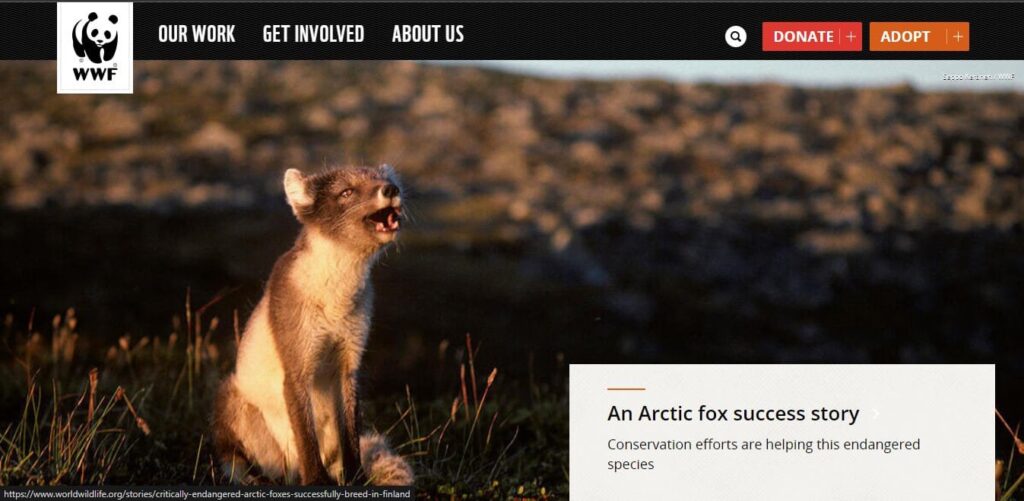 Purpose
There are many reasons for creating charity websites.
Some organizations use their website as a platform to gather crowdfunding for various causes. Others use their website to inform the public about their mission or to solicit donations. Still, others use their website to connect with members and volunteers and recruit them.
In short, there is no one purpose for charity websites; they can be used for any number of purposes that further the goals of the non-profit organization.
Features
Charity websites typically feature:
Basic information about the organization, including its mission, goals, values, history, and activities.
They may also include news and events, as well as ways to get involved or donate.
Some organizational websites also feature a blog or other resources.
They also include contact information and links to social media accounts.
Where to build
There are a few different options for building charity websites. You may use a website builder like Wix or Squarespace. These platforms are easy to use and don't require any coding knowledge.
Another option is to use a content management system (CMS) like WordPress or Drupal. These platforms require a little more technical knowledge, but they're also more flexible and customizable.
Things to remember
The features will vary depending on the purpose of the website. However, there are some features that are common to virtually all charity websites.
The website should provide a clear overview of the organization's mission, history, current activities, and accomplishments.
The website should provide information about the organization's efforts to raise money, educate the public, or otherwise work toward its mission.
The website should provide contact information for people who want to contact the organization.
The website should provide information about how to join the organization. It should describe the criteria for membership and explain how people can join.
The website should provide a way for people to sign up for mailing lists or other information services.
The website should provide information about how the users can help to promote its activities or donate money or time to it.
4. Personal branding / portfolio websites
A portfolio website is a site that highlights the work of an individual or organization. It typically includes images, descriptions, and links to examples of the work. Though a portfolio website is mostly built by freelancers and professionals as a personal website, businesses sometimes build them too.
Some examples of personal portfolio websites are the ones of Gary Vaynerchuk, Tony Robbins, Marie Forleo, etc.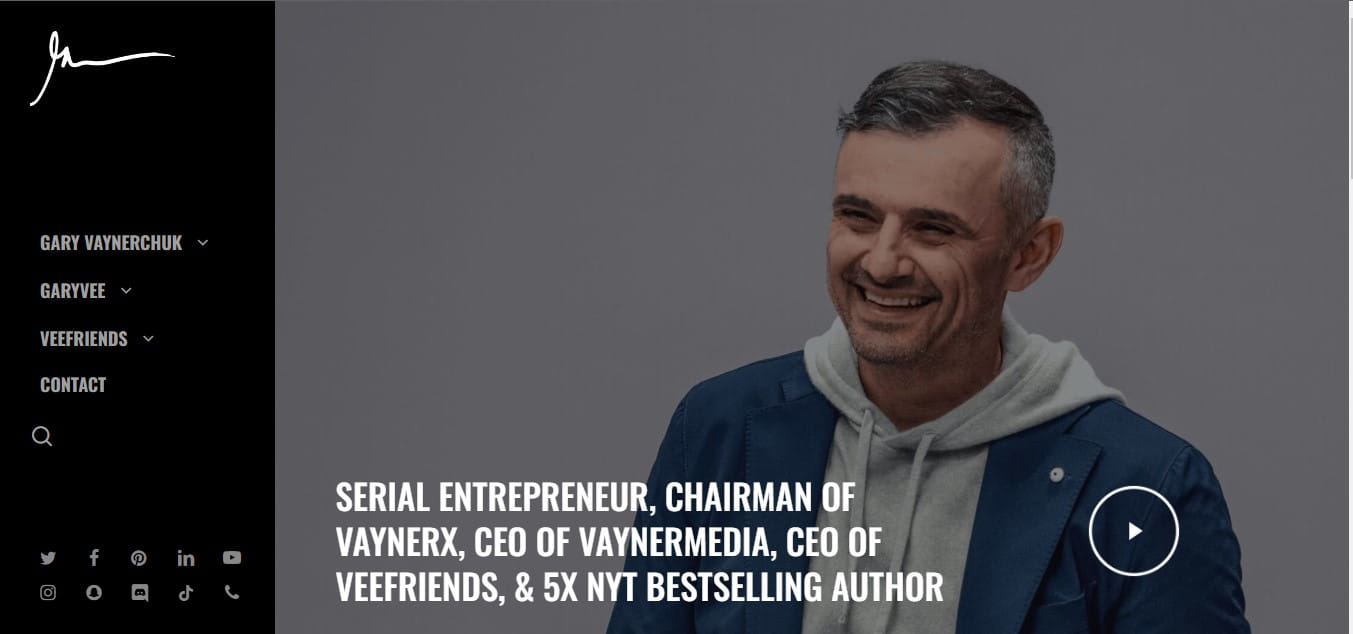 Purpose
The purpose of a portfolio website is to highlight your work and attract new clients. You also use it to show off what you have done in the past and demonstrate your skills. Your portfolio website can be used as a marketing tool to help you get new clients.
Features
There are many features that can be included in a portfolio website, but some common ones are:
A home page that includes an introduction and overview of your work.
A gallery or portfolio section to showcase your projects.
An about page or just a short bio for telling your story.
A blog section to write about your process, thoughts, and experiences.
A contact page to share your contact information.
Where to build
There are several places where you can build portfolio websites. Some popular options include WordPress, Wix, and Weebly. You can also use a simple HTML template to create your portfolio website.
Things to remember
Your portfolio website must display your best work.
It should be visually appealing and easy to navigate.
You should include examples of the range of work you do, including your latest work.
You should include a brief biography, which highlights the work experience you have and the skills you have to offer.
You can also include a list of your achievements, such as awards you've won or projects for which you've been responsible.
You should include social media links, such as websites, blogs, Twitter, and LinkedIn accounts. This will help potential employers to get a better understanding of your personality.
It is also a clever idea to add links to any other sites you have worked on, like portfolio websites or homepages.
If you are building the portfolio website to attract potential clients or employers, then include a list of your current and any previous employers. This will show your potential employer what you are capable of.
You should also include your education and qualifications, as well as any training you have undertaken. This will show that you are serious about the job opportunity and give your potential employer an idea of where your career is heading.
Finally, you should include any other information that may be useful to your potential employer. This could include details of any awards or prizes you have won, any languages you speak, and any other special skills you have.
5. Personal Blogs and Magazines
A Personal Blog is a website where the author shares his/her thoughts, experiences, and ideas in written form. It is like an online diary and is a way for people to connect with others who share similar interests. These Blogs can be about any topic, from personal thoughts and experiences to hobbies and interests.
An Online Magazine is a single-author or multi-author blog that is designed to look like a magazine. This can include articles, interviews, and other features that are typically found in magazines. Magazines may have 100% original content, or a mix of original content and content reproduced from other sources.
Some great blogs and online magazines you may read are that of Gary Vaynerchuk, Lifehack, Rank Fishkin (Sparktoro), TechCrunch, and Search Engine Journal.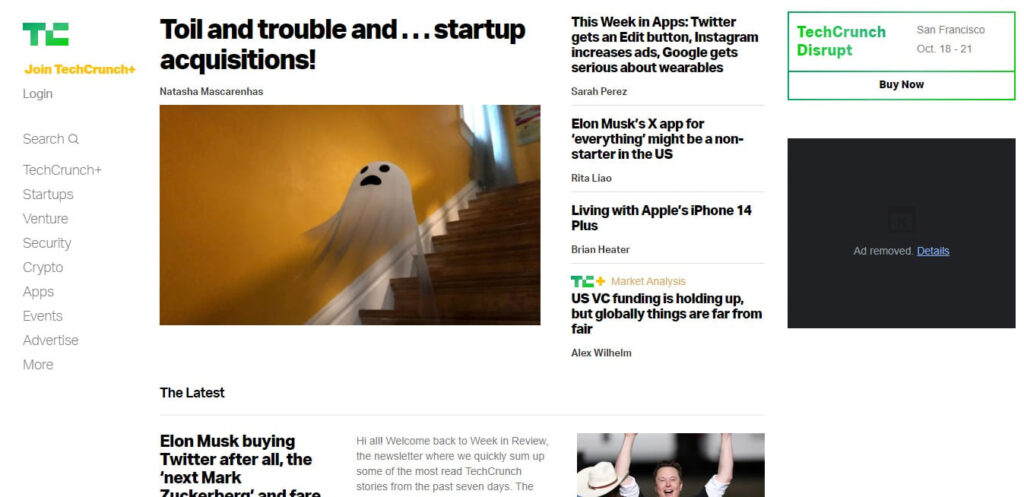 Purpose
There are many purposes for building blogs and magazine sites.
Some people use them to share their thoughts and ideas with the world.
Others use them to document their lives or share their experiences with others.
Some use them to promote their businesses or products, while others use them to provide information or resources on a particular topic.
Features
There are many key features of blog sites, but some of the most important ones include the ability to easily post content, add images and videos, and share your posts with others. Additionally, most blog sites also allow you to customize the look and feel of your blog, which can be important for branding purposes.
Where to build?
There are many platforms for building personal blogs and magazine sites, but some of the most popular ones are WordPress, Blogger, and Medium. Apart from this, you can also start your blog on Medium or even on LinkedIn.
Important points
Keep your audience in mind – who are you writing for? What kind of content will they be interested in?
Make sure your site is easy to navigate and looks professional – first impressions count!
Keep it simple – building a blog site doesn't have to be complex. Start off with a basic design and add features like e-commerce or social media as your traffic grows.
Write interesting and engaging content that will make people want to come back for more.
Use social media to promote your blog and get more people to read it.
Regularly update your site with new content to keep people coming back.
6. Information sites / Wikis
An information site is a website that provides information on a particular subject. This can include news, weather, sports, and other topics. On the other hand, a wiki is a type of website that allows users to create, edit, and add content. Wikis are often used to create collaborative websites, where multiple users can work together to add and edit content.
Some great examples of informational sites are Wikipedia, HowStuffWorks, eHow, Wiktionary, and Wikinews.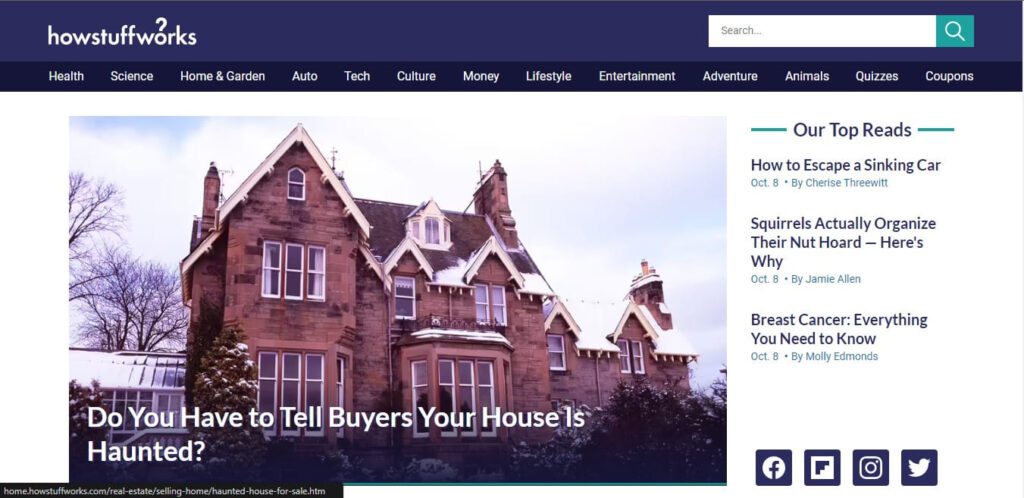 Purpose
There are many reasons why people might create information sites or wikis. Some people do it to share their knowledge with others, while others do it to generate income through advertising or selling products. For example, an information site about a new product may be created to promote a new mobile phone being launched by Apple and generate sales.
Whatever the purpose, creating an information site can be a fantastic way to connect with others and share your thoughts and expertise on a particular topic.
Features
The features of information sites can vary depending on the purpose of the site. However, some of the common features include:
A search bar or other way to easily find the information you're looking for.
A navigation bar to help you browse different sections of the site.
Clear and concise information that is easy to read and understand.
Links to internal and external sources.
Links to related information or further reading on the topic.
Information is categorized into different sections to make it easy for users to find it.
Platform
There are a few platforms where you can build information sites. The first option is to use a content management system like WordPress or Joomla. You can also use a site builder like Squarespace or Wix. Finally, if you're feeling more adventurous, you can code your own site from scratch using HTML, CSS, and JavaScript!
Important points
Keep your audience in mind: who are you creating the site for? What information do they need or want?
Make sure the site is easy to navigate and search. the users should be able to find what they're looking for easily.
Keep the design simple and clean – too much clutter will only confuse users.
Make sure the content is well-written and accurate – users won't return to a site that's full of errors.
Be sure to update your content regularly. stale information is of no use to anyone.
Promote your site through social media and other channels.
Use analytics to track visitors and figure out what's working and what isn't.
7. Online directories
Online directories are web portals that provide a list of businesses, websites, or other information organized by category. Online directories typically allow users to search for a business or website by category, keyword, or location. Some also allow users to submit reviews and ratings of the businesses listed.
Online directories can be a useful tool for finding information on businesses, products, and services. They can also be used to promote businesses and websites.
There are several types of online directories. Some are business directories, and others are subject based. There are also online directories that are only for providing reviews, and others that are for allowing users to make lists of their favorite websites.
Some of the most popular online directories are Yelp, Google Business Profile, and Bing Places For Business.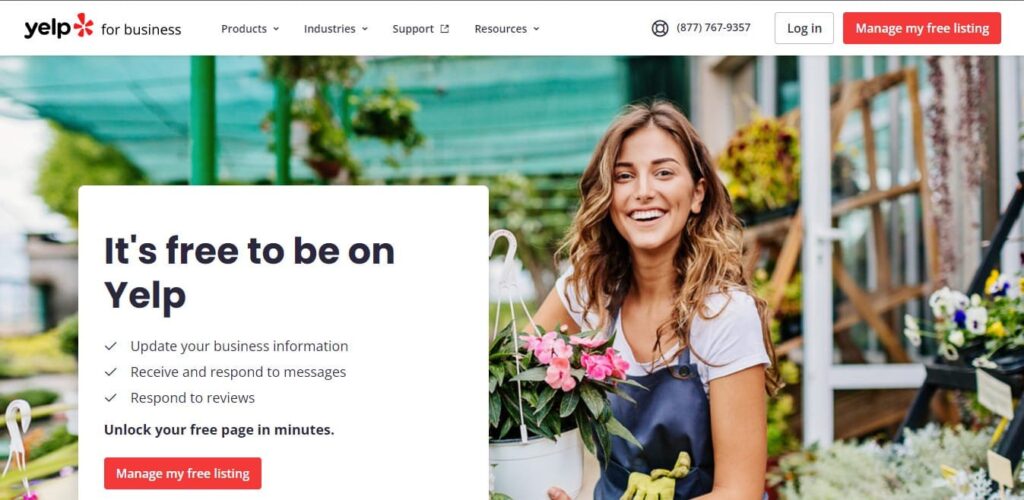 Purpose
There are a few reasons why online directories exist. One reason is to help businesses promote themselves. Listing their businesses in an online directory gives them another avenue to reach potential customers. It also allows customers to easily find businesses that they may be interested in.
Another purpose for online directories is to provide reviews and ratings for businesses. Customers can leave reviews on the directory website, which can help future customers make informed decisions about where to spend their money.
Online directories can also be a fantastic way for customers to find new businesses that they may not have heard of before. It allows small businesses to reach new customers without having a large advertising budget.
Features
There are a few essential features that most online directory websites share.
They allow users to search for businesses or services by category, location, or keyword.
They also provide basic information about each listing, such as a brief description, contact info, and hours of operation.
Most will also have user-generated ratings and reviews to give prospective customers an idea of what to expect.
Many directories will also offer additional features like coupons, deals, and special offers from businesses.
Platform
There are a few various places where you can build online directories. One option is to use a directory builder tool, which will allow you to create a directory on your own website. Some popular ones are Brilliant Directories, 360Directories, and GoClixy.
Another option is to build the site on WordPress using a plugin like Business Directory Plugin. Finally, you can also hire a developer to build a custom directory website for you.
Important points
The directory must meet the following requirements:
The online directory must enable users to search for businesses based on location, category, rating, etc.
It should allow businesses to add their own listing page. They should be able to add their own logo, address, phone number, service descriptions, etc.
The businesses must also be able to update their own business information.
There should be a rating system that allows customers to leave reviews about the business.
It must have a contact form that allows customers to contact the business directly.
The online directory must also have an email system for sending out emails regarding changes in the business information entered in the system.
8. Online forums
An online forum is a website where people can post messages and have discussions on diverse topics. There are many diverse types of online forums, each with its own unique purpose. Some forums are designed for general discussion, while others are more specific and focus on a particular topic. For example, there are forums for discussing politics, religion, sports, and many other topics.
In case you are wondering, there is a slight difference between social media websites and forums. A social media network is a platform where users can connect with each other and share content. A forum, on the other hand, is a platform where users can discuss topics and exchange ideas.
Some of the most popular online forums in the world are Reddit, Quora, Stack Overflow, and XDA-Developers.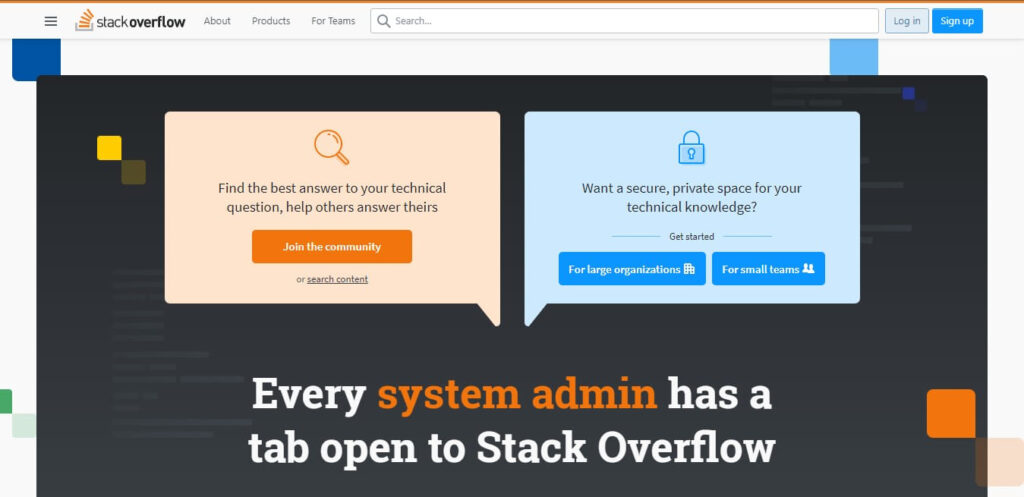 Purpose
In recent years, online forum websites have become increasingly popular. They provide a platform for users to discuss diverse topics and share their opinions. For some, it's a way to connect with like-minded people and share ideas. For others, it's a way to build an online community. And for some, it's a way to make money.
Most online forums serve as a platform for discussions, where people can voice their opinions on assorted topics. However, there are also many forums that serve other purposes, such as providing support for people with certain interests or problems.
For example, some forums are designed to help people with mental health issues, while others are meant to be used by students who need academic help. There are also forums that provide information on specific topics, such as parenting or pet care. In some cases, online forums can be used to connect people with similar interests who live in various parts of the world.
Whatever the reason may be, online forum websites serve as an important outlet for many people. They provide a place for users to voice their opinions and exchange ideas. And in some cases, they can even help people connect with others who share similar interests.
Features
Most online forum websites have features that allow users to communicate with each other easily and effectively. These features usually include a user-friendly interface, basic search functionality, and the ability to post messages and reply to threads.
Online forums allow users to create a profile and avatar, and to post messages in a format that is similar to an instant messaging conversation. Users can also reply to other user's messages, and "like" or "dislike" posts.
Some online forum websites may also offer additional features, such as the ability to upload files or images, private messaging, social media integration, and more. However, the basic features listed above are typically enough for users to be able to participate in discussions and exchange information with each other.
Platform
There are a few diverse ways you can build a forum site. One is to use forum software like phpBB or vBulletin, which you can then install on your own web server. Another option is to use a hosted solution like Discourse or Vanilla Forums, which will take care of hosting and maintenance for you. Finally, you could also create a forum as part of a larger website using something like bbPress.
Important points
The following points should be kept in mind while creating an online forum website:
Be clear about the purpose of the forum. What topics will be discussed? What kind of tone do you want to set? Make sure this is clear to users from the start.
The online forum should be easy to navigate and understand. Users should be able to find what they are looking for quickly and easily.
Add a search facility: The users should be able to search for whatever they want.
Provide relevant and interesting content that will make the users come back for more.
Set some ground rules- moderate content to make sure it is appropriate and respectful, establish consequences for breaking the rules, etc. This will help to create a positive environment on the website.
Provide a user guide- if you are a beginner, then you will need to read it. If not, then you can skip this.
Encourage interaction- one of the best ways to keep users coming back to a website is by encouraging them to interact with each other. This can be done through features such as forums, chat rooms, and user profiles.
Allow the users to login and create their own profile pages.
Enable user interactions such as comments, likes, and shares.
Provide user support: Let the users take help from the customer support team via a contact form, email, or chat. This will make it easy for them to get their issues resolved easily and quickly.
9. Event Websites
An event website is an online platform that helps you promote and sell tickets for your event. It is a convenient way for potential attendees to find out more about your event and buy tickets. An event website usually has all the information potential attendees need, such as the date, time, location, and price of tickets. It may also include a description of the event, photos or videos, and a list of FAQs.
Creating an event website is a great way to increase awareness of your event and boost ticket sales. If you are planning an event, consider creating an event website to help make it a success.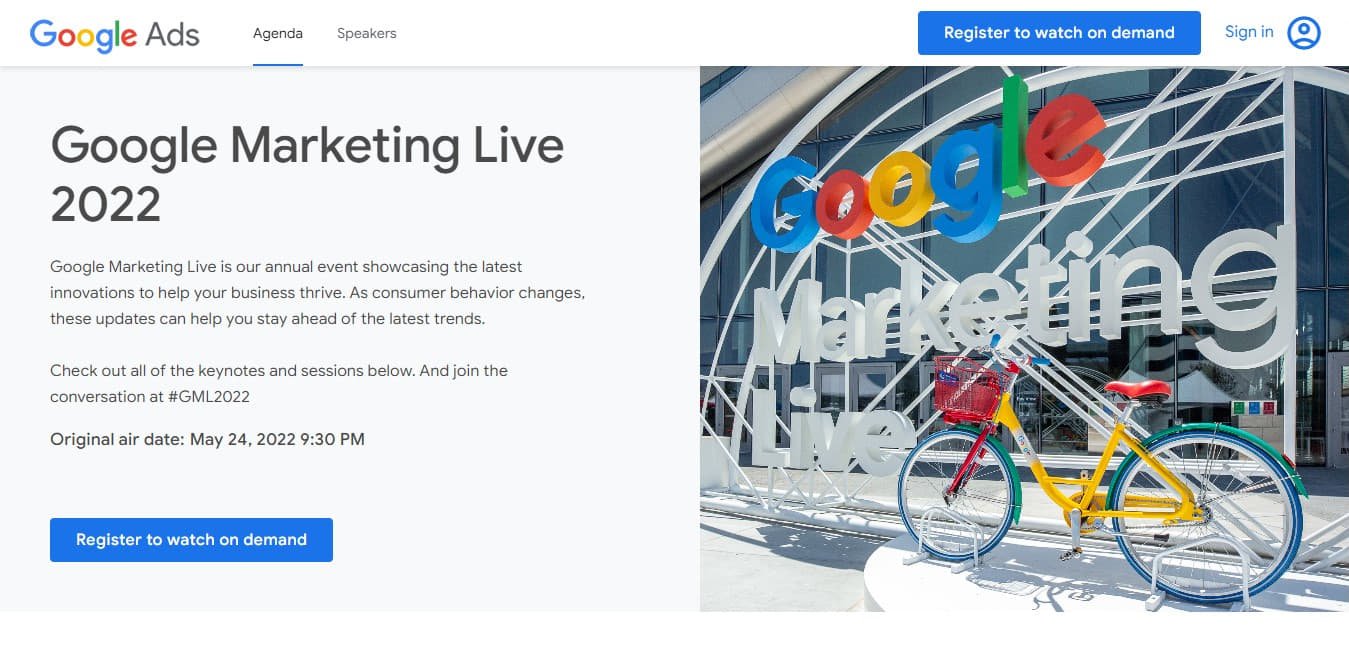 Purpose
The purpose of creating an event website is to provide potential attendees with information about the event and to allow them to sign up for the event. The website should also allow event organizers to manage registrations and track payments.
Features
a. Website for Online events
An event website should contain all the necessary information about the event, including the date, time, location, and ticket prices.
If you are promoting multiple events, then include an event calendar
Add event management features, including the facility to add, modify or delete events.
The website should also have a section for speakers, sponsors, and partners.
It should also have a registration form and ticketing facility.
If it is an invite-only event, then add the facility for people to RSVP.
A payment gateway must be integrated with the site so that people can sign up for the event and pay for it online.
b. Website for Offline events
If you are conducting an offline event like a wedding, conference, or some other on-site gathering, then the features to be added to the site will be more elaborate. Here are some of the features to include on the website for an offline event:
Event Schedule: A clear event schedule will help attendees plan their time at the event. Include the event schedule on your event website, showing when and where each of the events will be taking place.
Ticket price and booking information: A booking form is an important feature of any event website. It allows attendees to book tickets in advance, which will help organizers plan their budgets better.
Event Photos and videos: A photo gallery or videos of past editions of your event is a great way to help attendees visualize what the event will look like and what they can expect at the venue.
Event Map: Include an event map on the site, showing where the venue is located and how to get there.
Travel and Accommodation: It is important to let attendees know how they can travel to the event. If there is accommodation available at the venue, you could include that information on the website.
Event Contact Information: Include your event contact information in a prominent location on the site.
Event Partners: By listing your event partners on the website, you can encourage potential attendees to visit each of the partner's websites before deciding where they will be booking their accommodation and travel.
Event Registration Instructions: Include instructions on how to register for your event on your website.
Event Registration Link: Include a link to your registration page on your event website.
Event Volunteer Information: Include information about volunteering at your event on your event website.
Platform
An event website can be built on several platforms. You must choose the one that best suits your business needs and budget.
WordPress is one of the most popular choices for event websites, as it is free, easy to use, and has a wide range of plugins available. Since WordPress is highly flexible, you can easily customize a WordPress site to match your specific event.
Squarespace is another popular option for event websites. It offers a drag-and-drop interface that makes it easy to create a professional-looking site without any coding knowledge. However, Squarespace can be more expensive than some other options.
Wix is an excellent choice for those who want complete control over the design of their event website. Wix allows you to add your own HTML and CSS code, giving you the ability to create a completely custom site.
There are also premium tools like Eventbrite that offer more functionality, but you will have to pay for them.
Important points
Some important points to remember while creating an event website include:
Make sure the website is visually appealing and easy to navigate.
It is helpful to give a facility for the attendees to register on the website and create their own profiles. There they can enter their personal information such as name, contact details, and dietary preferences. This will give the event host a better understanding of who will be attending.
Including all relevant information about the event, such as date, time, location, and cost.
Create a way for guests to RSVP or purchase tickets online.
Providing a contact form or email address so guests can contact you if they have any questions.
If it is a charity event, include information about your beneficiary on the homepage of your website.
Add event FAQs to answer frequent questions potential attendees may have about the event.
Include links to your social media accounts on your event website. This will allow you to connect with potential attendees and further promote the event.
Conclusion
So, these were the 9 types of websites you can build. As you have seen, each website serves a different purpose and can be customized to fit your needs. Choose the type of website that best suits your business or personal goals and get started today.
Just remember that regardless of which of these 9 types of websites you choose, the most important thing is to create something that's helpful and useful for your visitors. You must also choose an attractive website design and an easy-to-understand layout. You must also make the website mobile responsive to give the users the best experience possible.