A great way to make your WordPress website stand out from the crowd is to add an attractive theme to it. Adding a nicely chosen paid or free WordPress theme provides your site with an attractive look, making it eye-catching and pleasant to use.
A properly designed WordPress site gives off amazing aesthetics that are pleasing to the eyes whilst being easy to navigate. In this guide, we're going to take a look at how to do just that.
We will begin by taking a look at what a theme is and how to find the right one for your site. Next, we're going to discuss how to find and add themes to your site.
What is a WordPress Theme?
Before you decide to use a WordPress theme, it's good to understand what they are and how they work.
A WordPress theme is a template or framework for how your WordPress website looks and feels. Each theme has specific features that determine how your pages, images and layout will take shape.
Why do you need a WordPress theme?
Themes are a key tool in the hands of developers and designers alike. WordPress users can choose from over 50,000 themes created by the amazing community of designers and developers.
Themes allow us to customize and tailor our site to our tastes and interests. It's also a great way to create a sense of unity or consistency with your brand, no matter how large or small your business is.
Why use free WordPress themes?
While building your website with a free theme may not be the best choice, it is certainly an acceptable one. It is a very good idea if you are just getting started. It will give you something to build on and add features to. The problem with building a website from scratch is you are starting from nothing. You have to figure out what you want your site to say all by yourself. Which can be both exciting and frustrating.
Free themes are usually very easy to install and configure and they often come with an impressive feature set. There are thousands of WordPress themes to choose from. This means you should have no trouble finding a theme that suits your needs.
However, it is important to remember that a free theme does not come with any sort of guarantee from the company that produces it. Some companies that produce free themes are so desperate for customers that they will do almost anything to get you to buy their product.
When you install themes that are available for free, it saves time and money. You can instead spend the money in purchasing a design template to customize your site as per your liking.
Steps For Installing A Free WordPress Theme
There are essentially two ways to install a free theme on your WordPress site:
Select one from the WordPress Theme Repository or
Install the theme via a zip file.
Option 1: Install from the WordPress Theme Repository
The WordPress theme repository contains thousands of free themes that you can use to customize your WordPress site. These themes are vetted by the WordPress team and frequently updated to ensure compatibility and bug fixes.
You can search for a free WordPress theme directly from the default settings using the Search Themes option in your Dashboard.
Here is how to do it:
Step 1. Log into your WordPress admin panel
Logging into your WordPress admin panel allows you to make changes to your site. It also lets you see the WordPress dashboard that contains many details about your site which is important for maintenance and keeping an eye on things.
You'll need to access your admin panel to change themes, add and remove plugins, and make other adjustments.
Logging into your admin area is a very simple process. All you have to do is to go to:
https://yoursitename.com/wp-admin
(Here do not forget to replace yoursitename.com with the actual URL of your site)
You will be presented with a login page like this: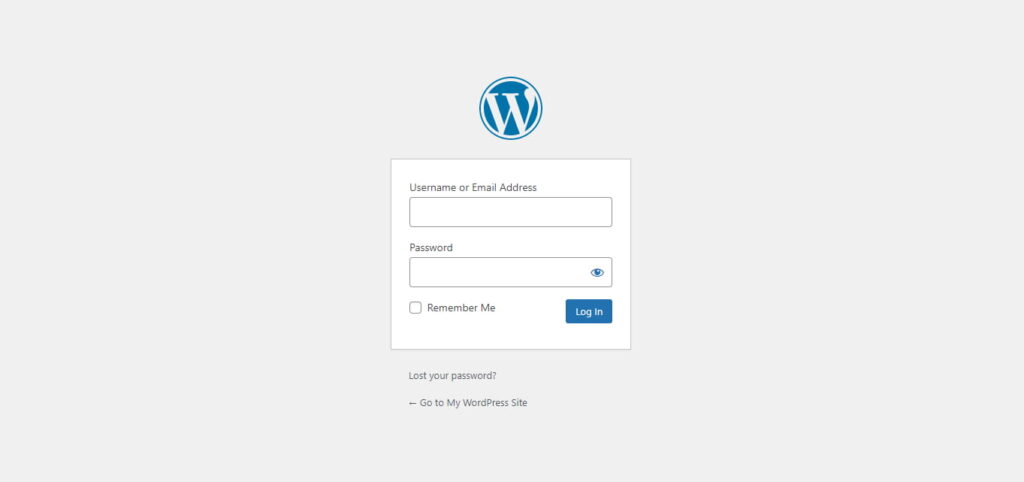 Type in your username and password which should be easy to remember (it should be the same as your login details for your email). Once you're in, you'll be able to do anything your little heart desires with your new site including making changes to the layout, adding and removing pages, and doing anything else you can think of.
Step 2. Navigate To The Themes panel
Navigate to "Appearance > Themes" in the left-hand menu to open the Themes panel of WordPress.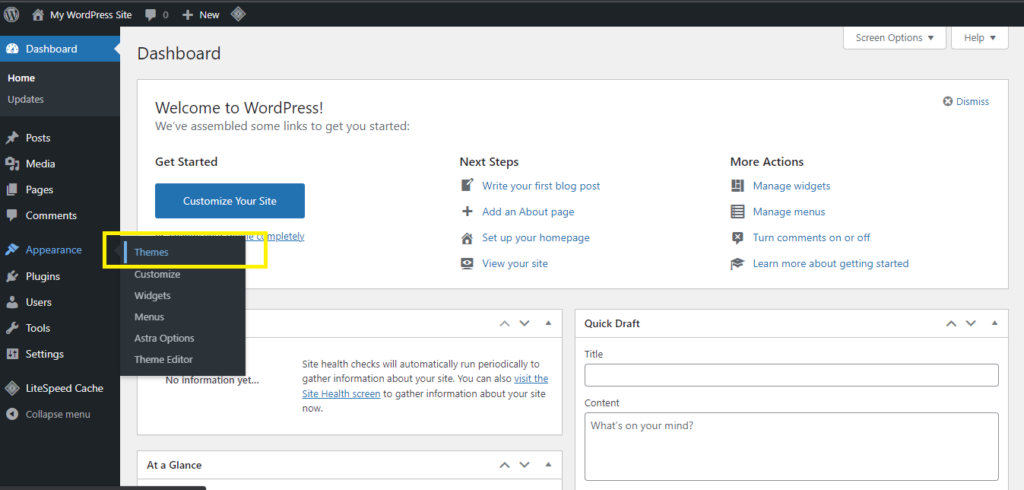 Step 3. Access the WordPress Themes Repository
When you go to the themes section of WordPress, you will be presented with a list of themes already installed on the site.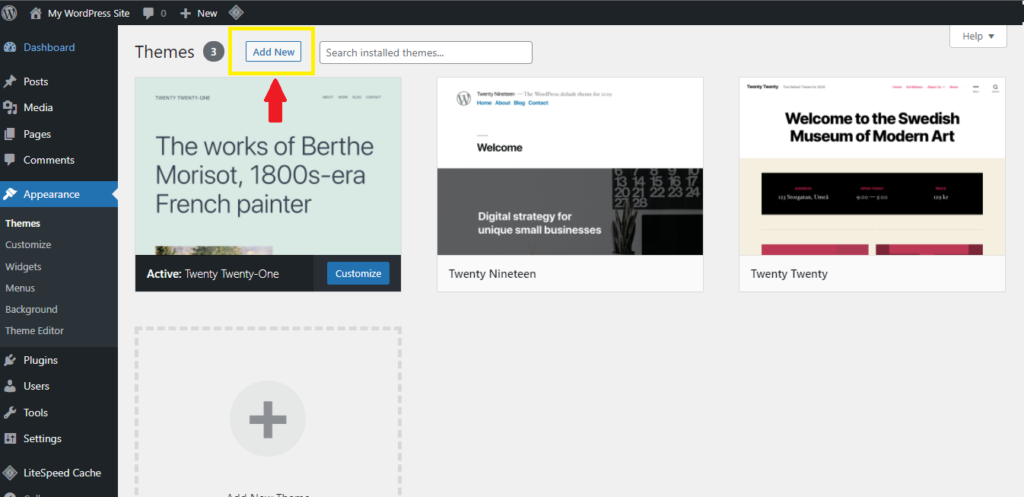 Click the "Add New" button on the top left side of the screen to access the Free Themes Repository of WordPress. This is nothing but a theme directory that WordPress maintains and anyone can access it freely.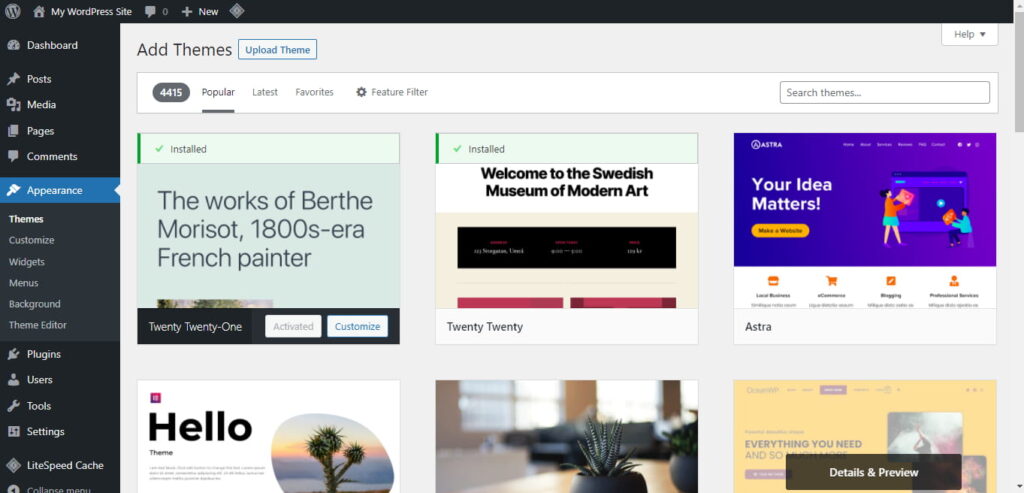 Step 4. Find the right theme for your site
There are thousands of free themes listed in the WordPress repository, so selecting the right one may become somewhat confusing.
The best option for you will be to either choose one of the popular themes or do a bit of research on the Internet to see which themes are getting recommended by the WordPress community the most and go for one of those.
Here is a list of 60+ Best Free WordPress Themes that has been recommended by the web hosting company Hostinger to get you started.
If you rather prefer to find a theme on your own, there are some useful filters on this page. These let you sort the themes according to their popularity, freshness and feature set. Here are the options that the Feature filter provides: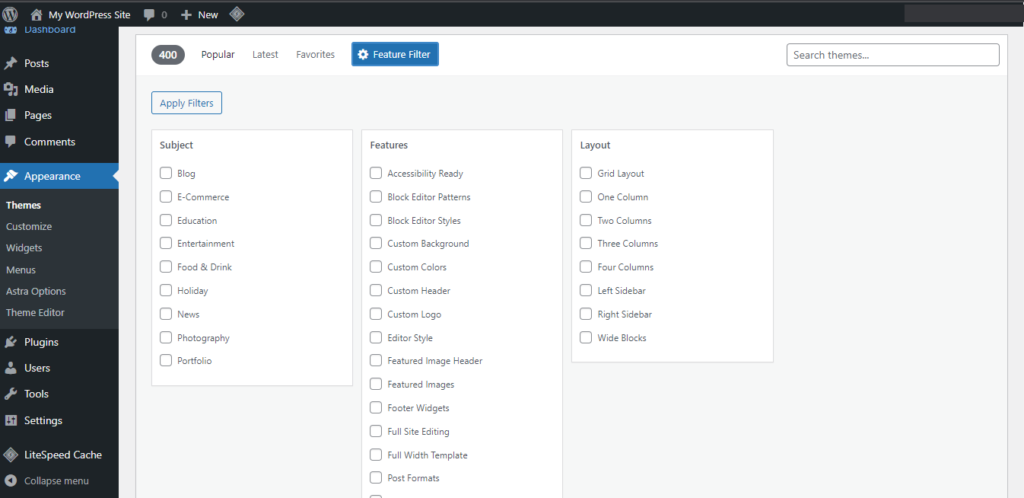 WordPress also has a useful search tool to make your life easier. It is located on the top right corner of the theme repository.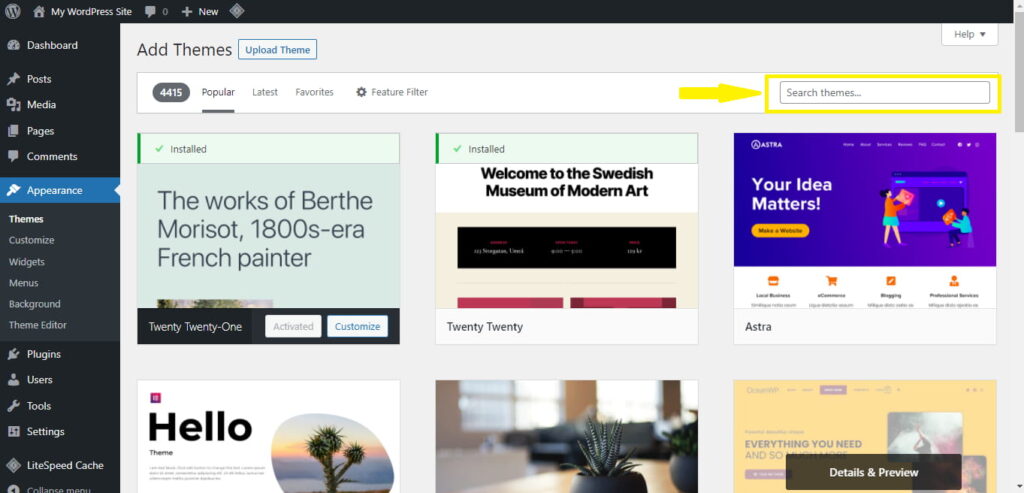 Here is a sample search for themes in the Real Estate category.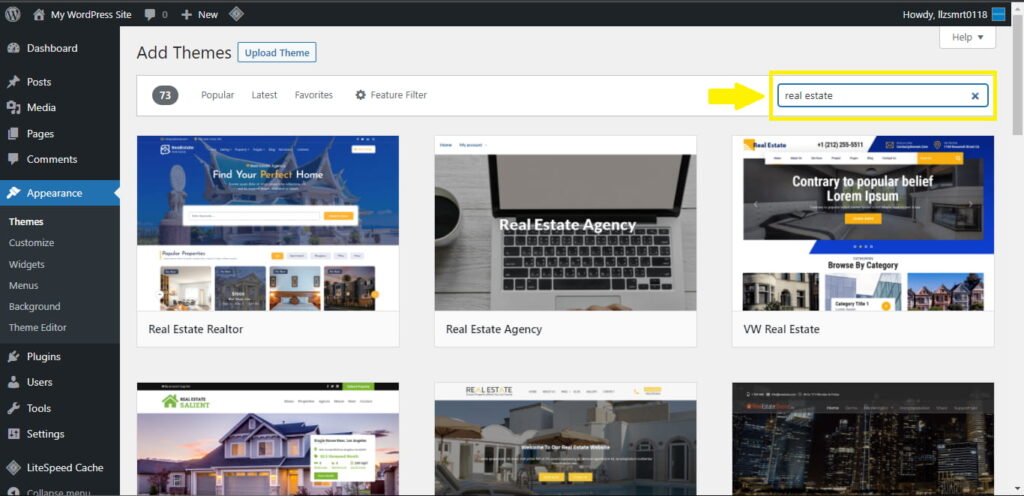 Step 5. View theme details
When you hover on the image of any theme listed, you will be presented with two options: Install and Preview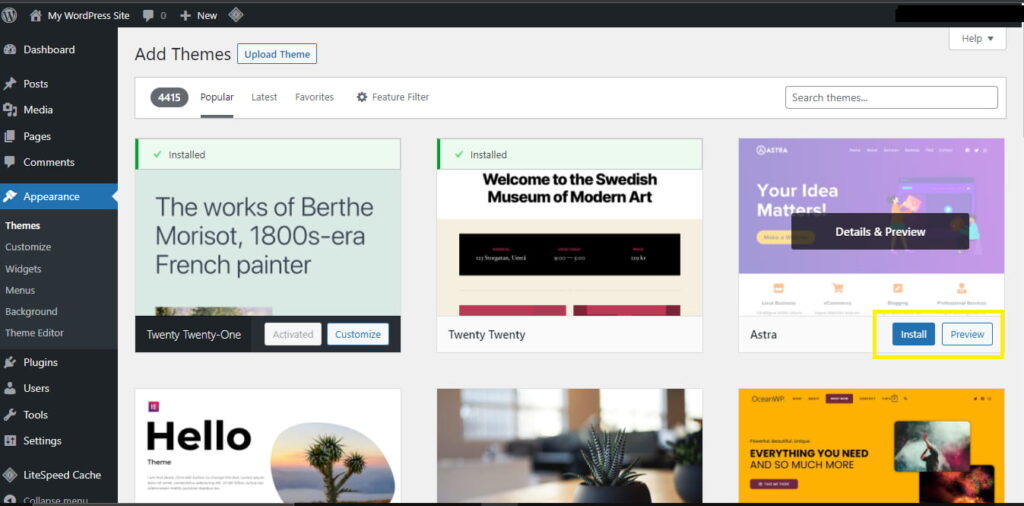 You can get a live preview (demo) of any theme before installing it. If you have some existing content on your site, it will give you a partial preview of what the site will look like when the theme is installed, and also some useful info and a description of the theme itself.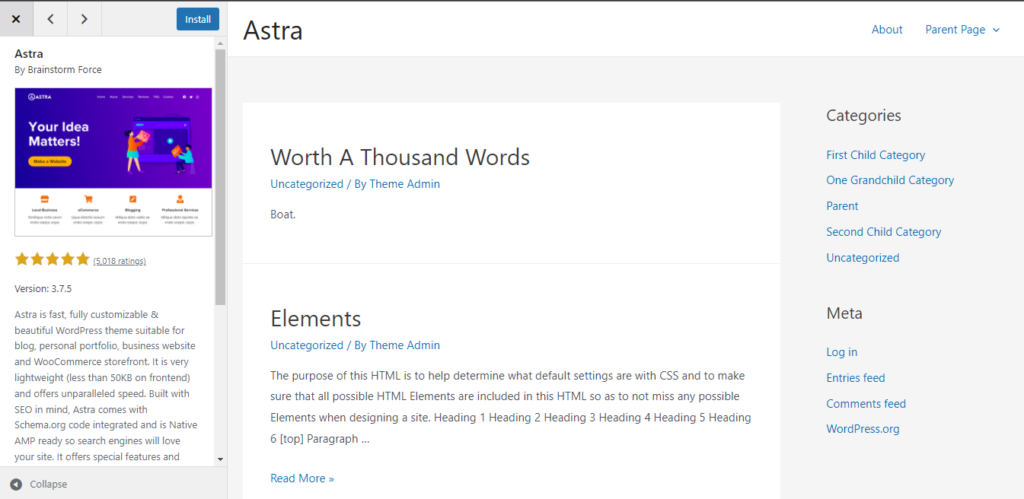 Step 6. Install the theme
When you are satisfied, you can click the Install button to get the theme installed on your website.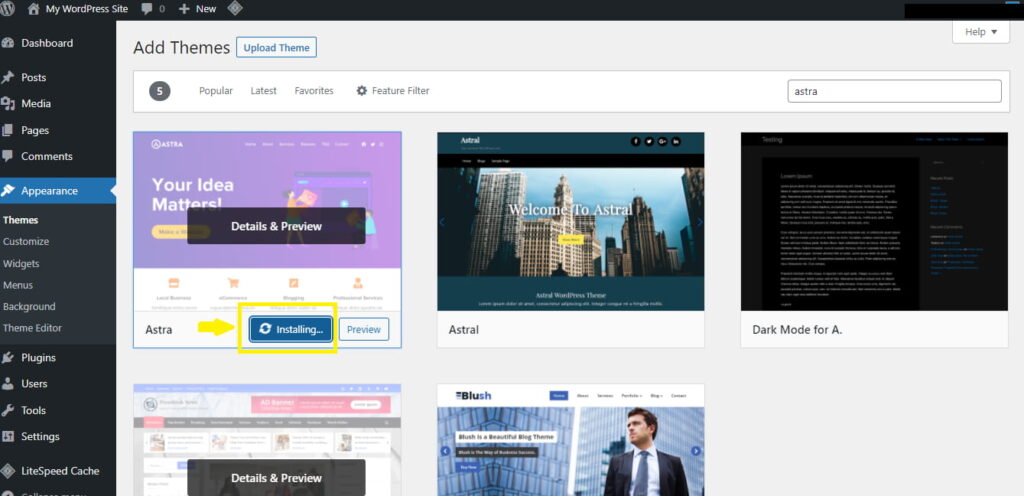 Depending on the theme and the hosting you have chosen, the installation may take a few minutes to complete. But usually, it happens very fast.
Step 7. Activate the theme
Once the installation is complete, click the "Activate" button to make the theme go live on your site.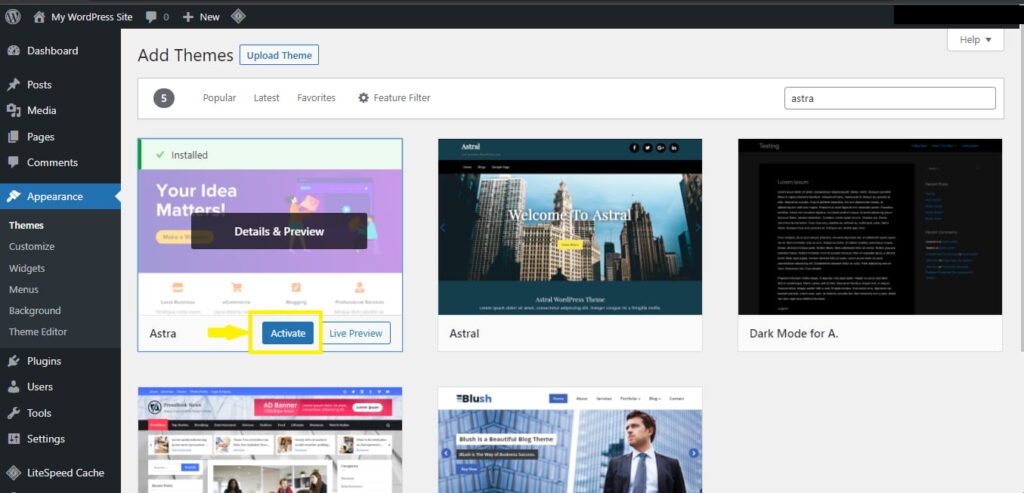 Once the theme is activated, you will see a confirmation message, and you are done!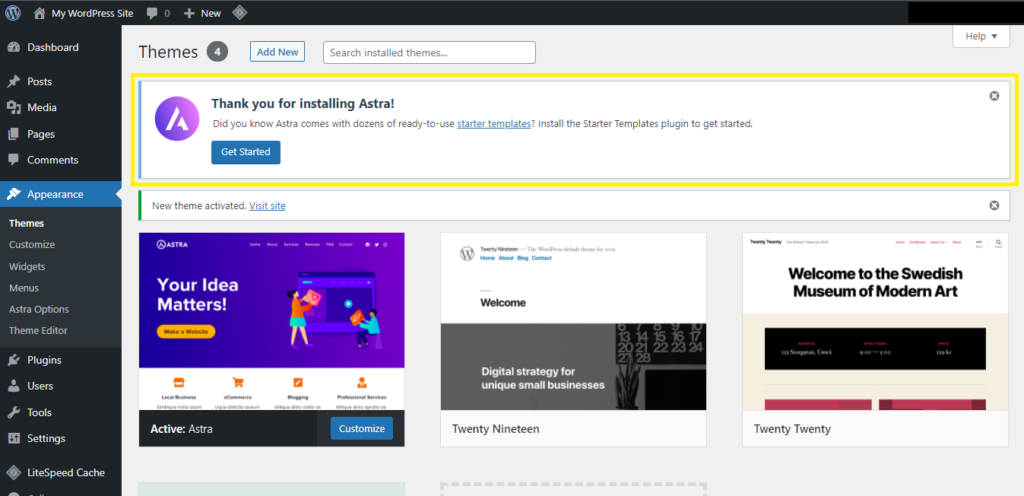 Option 2: Install via zip file (advanced users only)
For first time themes, we recommend the first method. However, you are technically savvy, you can also choose this route.
The WordPress theme repository is not the only place where you can find free themes. There are many other companies and independent developers who provide free themes. You can get one from them and upload it to your WordPress site.
To do this, you will have to get the free theme from the developer. They usually provide the theme in a zip file. When you get it, upload it to the WP-Content > Themes directory of your website hosting server via an FTP client like FileZilla or CuteFTP.
However, there is another easy way to do this. This is particularly useful if you are a beginner.
Do the following:
Step 1: Extract the theme file.
If you have got a composite zip file that contains the theme file as well as documentation (help files) you will need to unzip the file first. If you have only got the theme zip file, you can skip this step.
Step 2: Go to the theme panel
Go to Appearance > Themes and Click on the Add New button.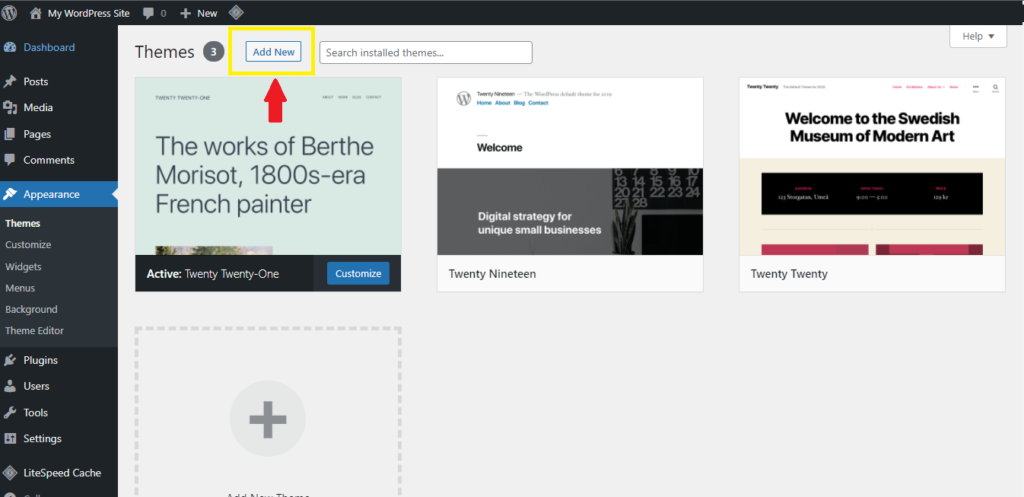 Then choose the Upload theme on the top left corner.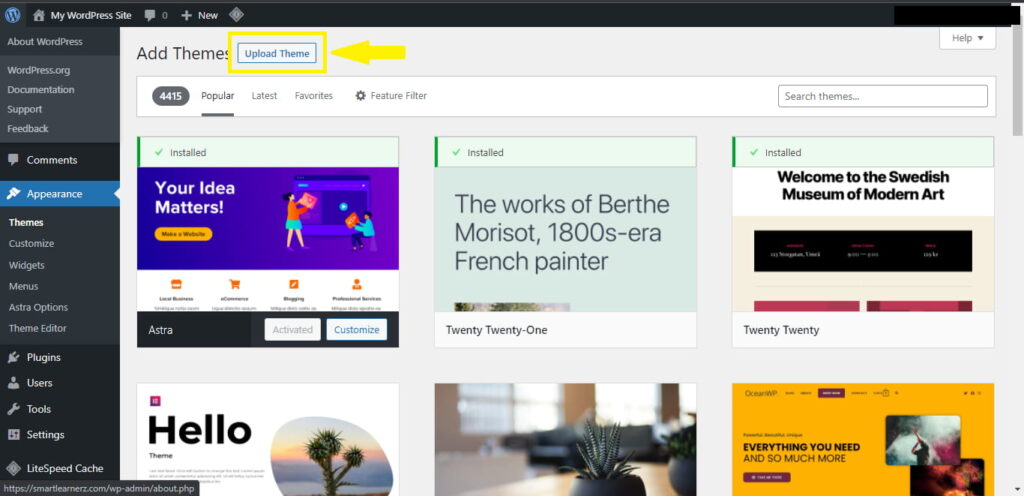 You will be presented with the following screen: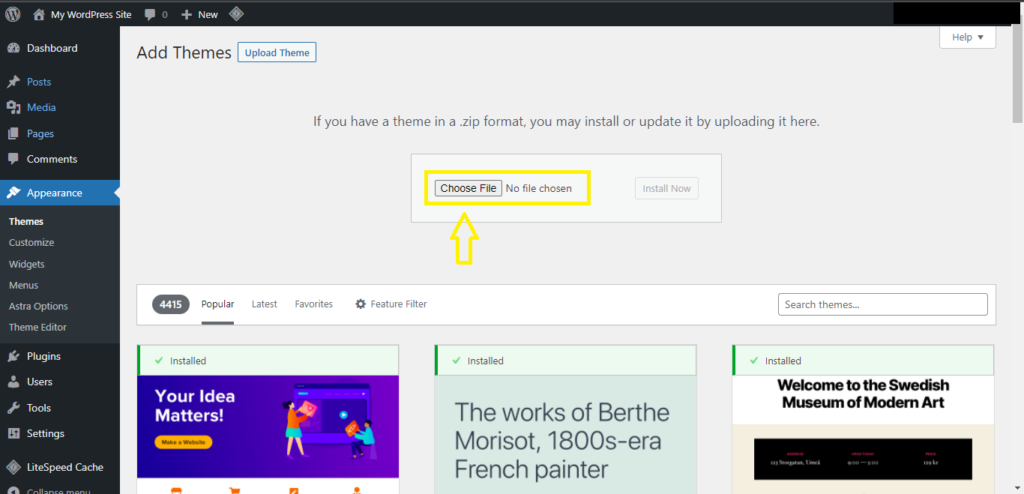 Click on Choose file and browse to the theme folder.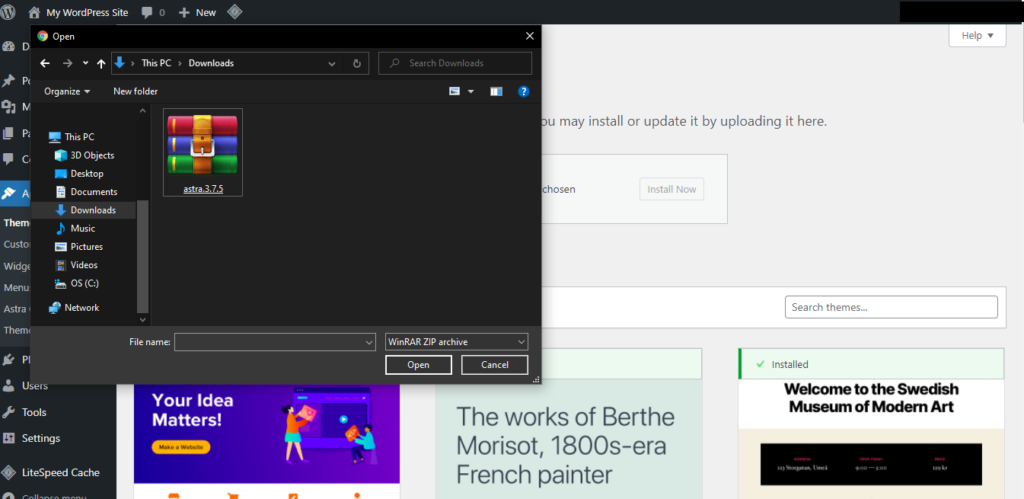 Select the file and press "Install Now".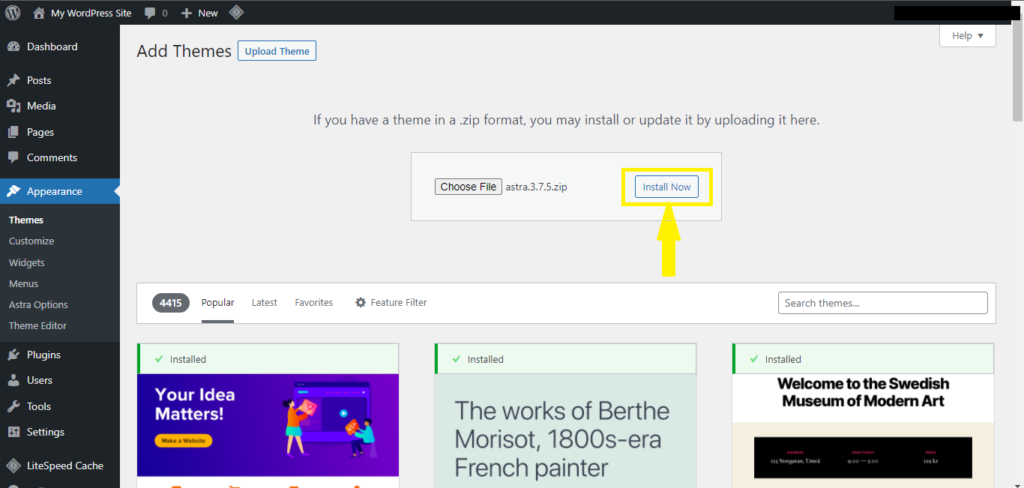 Once the uploading is done, the file will be installed and your new theme will be ready to be activated.
What next?
After the theme is installed, you will have to customize it to give your site the look and feel you want.
You will have to go to Appearance > Customize > Theme Options to get the options for customizing The Theme.
You can also install the demo content that comes with many of the themes. This will give you a pre-built site that you can customize by changing its text, images, logo, colours etc. This often saves a lot of time, since you don't have to build the site from scratch.
Once you are satisfied with the look of your site, you can start adding content and images to the pages to make your site complete. WordPress has made this process pretty easy even for novices nowadays.
That's it for this guide. We hope that after reading this article you will be able to easily install a perfect theme on your WordPress site.
Though a free theme should be good if you are just starting, they often have very limited options for customization and modification. So if you want the best experience possible, we highly recommend that you go for a premium theme.
You can also consider installing a Child Theme if you want complete peace of mind while customizing your website. Read about how to install a WordPress Child theme to know all about it.
As always, we welcome your feedback. Leave a comment below, subscribe to our mailing list and share this with your friends if you liked it!
---
Frequently Asked Questions
Is there any difference between A Premium and Free WordPress Theme?
Free WordPress themes are often more basic and have less functionality. Premium WordPress themes are generally more robust and have more features.
Premium WordPress themes are better suited for detailed customization, so if you want to get the most out of your WordPress site it is recommended that you purchase a premium theme.
Premium themes offer more features and generally have longer support lifespans than free themes due to their higher prices. Having said this, some premium themes are still not very expensive considering how much they provide in terms of features and customisation options.
Which one is better: Premium or free wordpress themes?
Premium themes are more flexible and customizable. They are also more expensive. Free themes are limited in terms of customization, but they are less expensive. Which one you choose depends on your budget. There are also some nice free themes you can use, which offer plenty of customization options and look great. If however, the extra features provided by premium themes interest you more, then go for a premium theme.
What is the best free wordpress theme?
The best free wordpress theme is one that will help you build a successful website.
Some themes are more suitable for building e-commerce websites while others are better suited for blogging and other types of content writing. Some themes are simple and require little HTML knowledge to set up. Others will be more complex and difficult to set up, but the markup can be visual using CSS or similar technologies. Choosing a theme that is easy for you to use is always preferable over one with advanced features.
If looking online it might be best not to go directly at websites selling wordpress themes as they often link out through third parties making them difficult to filter through correctly – which is a recipe for disappointment.
Also recommended is resorting to some forums and or sources on the web that sells, host and review themes. WordPress theme repositories such as WPMU DEV will usually have a forum section where the community can report issues or offer advice. In this way, you may be able to get a free theme that is recommended and tested by the community.
Where can I get free WordPress Themes?
WordPress is a popular website building platform that allows users to create and manage their websites without any coding knowledge.
The official WordPress repository has thousands of free themes for users to choose from, as well as many premium themes available for purchase. You can find these by searching the keyword "free wordpress themes" or "premium wordpress themes". Many websites also sell pre-made themes. These serve the purpose of describing and selling a theme to make it easier for users to find one they like.
Is using a free WordPress theme okay?
Free WordPress themes can indeed be found easily, but it doesn't mean they are the best.
There are a lot of advantages and disadvantages to using a free theme:
• A lot of people prefer to use free themes because they don't want to spend money on their website or blog.
• It's easy to install and update, which means you don't have to worry about spending time learning how to do so.
• The design of the theme is unique in its way, but not customizable enough for your specific needs. Free themes usually don't offer any options to change the colours or layout of a theme.
• Allowing users more resources means they may have errors in their codes, making it hard for others to use.
With all these ideas being said, there is nothing wrong with using free WordPress themes if you want to try them out and see how your website looks before paying money on a custom theme that can do everything you need it to do, but only if the following criteria are met:
• You must learn how to make changes to make adjustments. This way, you can always tweak your WordPress site according to your needs without paying extra money.
• If possible, hire a professional web designer who knows WordPress well and is skilled in making custom themes for clients instead of using free ones that don't work properly or have problems with coding errors that render them useless within minutes of being activated.
How to select the right WordPress theme?
When you choose a WordPress theme, it should be clear what type of website you want yours to look like. It's usually best (and preferred) to pick one named after the purpose or function of your blog — for example business, fashion or personal — although this is not an absolute rule and some websites can vary their looks depending on the content they contain.
The easiest way to pick a WordPress theme is by browsing through your current choices and looking at their designs or styles of how things look.
Another way to go about this is to go to a website like Themeforest. There, you'll find hundreds of themes created by other people who have been inspired by the work of other people such as yourself.